Ask Mayor Maria Rivera! (Monthly Meeting) Join Mayor Maria Rivera and her Team on March 30th at 5:30 pm at the McKenna Center. Come and ask questions, address your concerns, and learn about City services. Call to reserve your spot at 401-721-2894 or text us at 401-834-2460 with your name. —- ¡Pregúntale a la Alcaldesa María Rivera! (Reunión mensual) Únase a la Alcaldesa María Rivera y su equipo el 30 de marzo a las 5:30 p. m. en el McKenna Center. Venga y haga preguntas, aborde sus inquietudes e infórmese sobre los servicios de la Ciudad. Llama para reservar tu lugar al 401-721-2894 o envíanos un mensaje de texto al 401-834-2460 con tu nombre.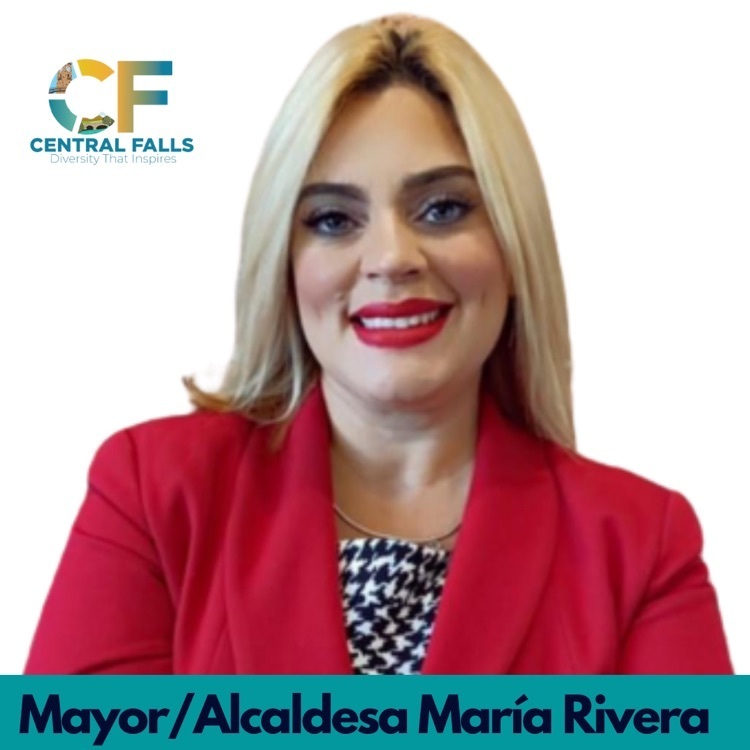 💙💛 Show your support by wearing these beautiful colors 💙💛 Muestre su apoyo vistiéndose con estos hermosos colores 💙💛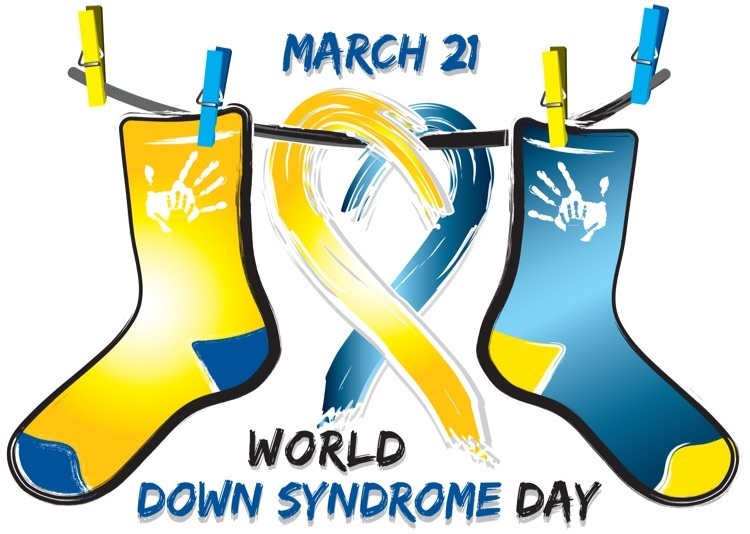 Families/Familias: Save the Date! ¡Guarde la fecha! Thank you/Gracias, We Heart Lives!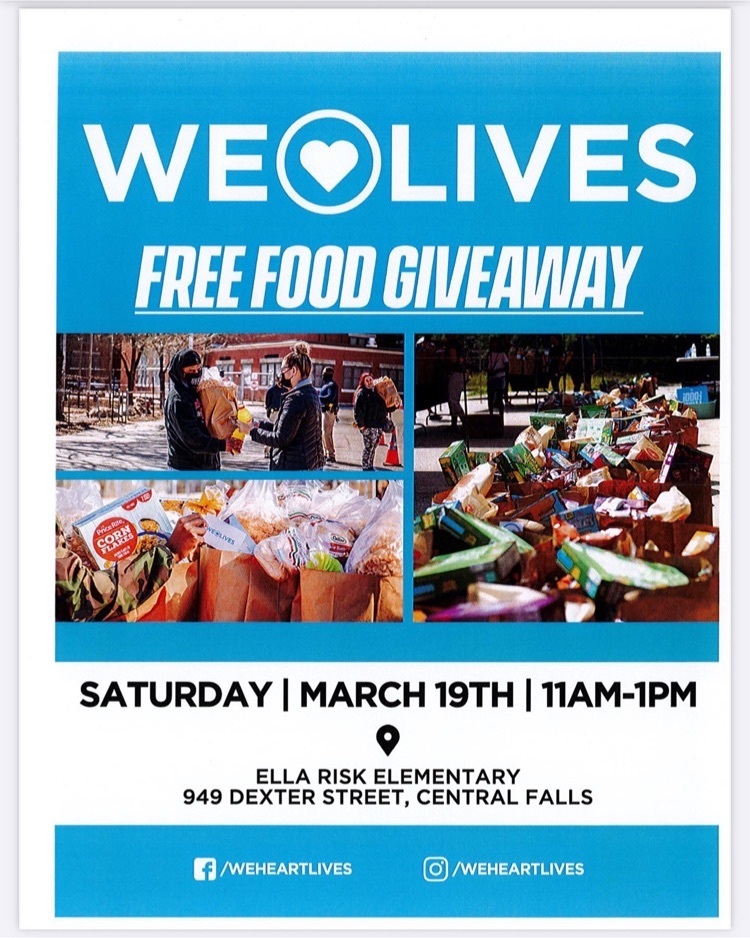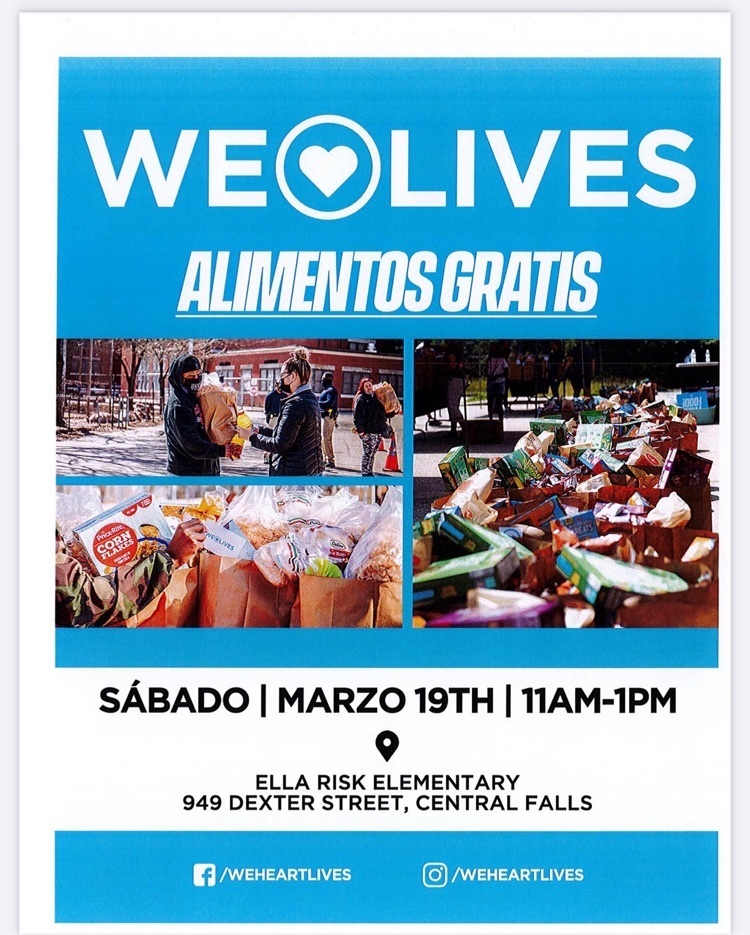 In celebration of Woman's History Month! We are Harriet 💙💙💙-Global walk for Harriet Tubman. Harriet Tubman was enslaved, escaped, and helped others to obtain their freedom. #Warrior Visit this link to learn more about her incredible history and legacy:
https://en.m.wikipedia.org/wiki/Harriet_Tubman
¡En celebración del Mes de la Historia de la Mujer! Somos Harriet 💙💙💙-Caminata global para Harriet Tubman. Harriet Tubman fue esclavizada, escapó y ayudó a otros a obtener su libertad. Visite este enlace para aprender más de su increíble historia y legado:
https://es.m.wikipedia.org/wiki/Harriet_Tubman
#Guerrera Source of info/fuente de la info: Wikipedia A special thanks to Denise Debarros who coordinated the activity. Un agradecimiento especial a Denise Debarros quien coordinó la actividad. 📸 Denise Debarros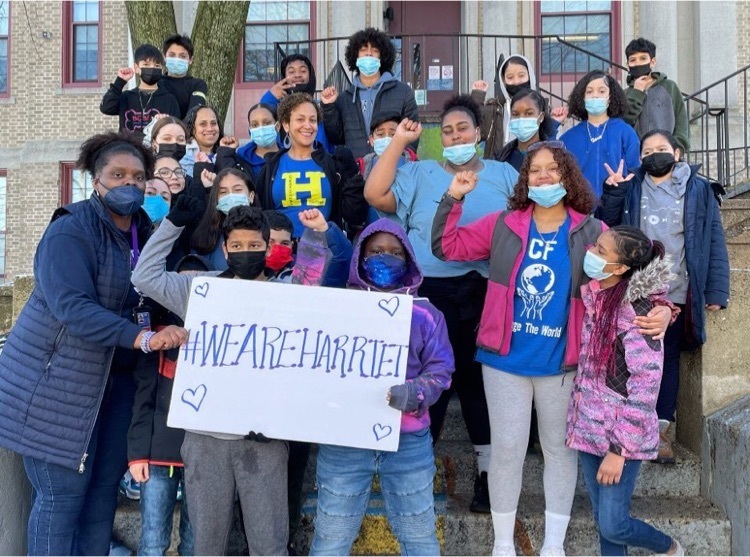 We have a new date! Join Superintendent Stephanie Downey Toledo and Councilwoman At-Large Tatiana Baena to discuss the future of Central Falls schools on Friday, March 11, 2022, at 5:30 p.m. at Central Falls High School. ¡Tenemos nueva fecha! Únase a la Superintendente Toledo y a la Concejal Baena para hablar sobre el futuro de las escuelas de Central Falls el viernes 11 de marzo de 2022 a las 5:30 p.m. en Central Falls High School. Temos uma nova data! Junte-se ao superintendente Toledo e à vereadora Baena para discutir o futuro das escolas de Central Falls na sexta-feira, 11 de março de 2022 às 17h30. na Central Falls High School.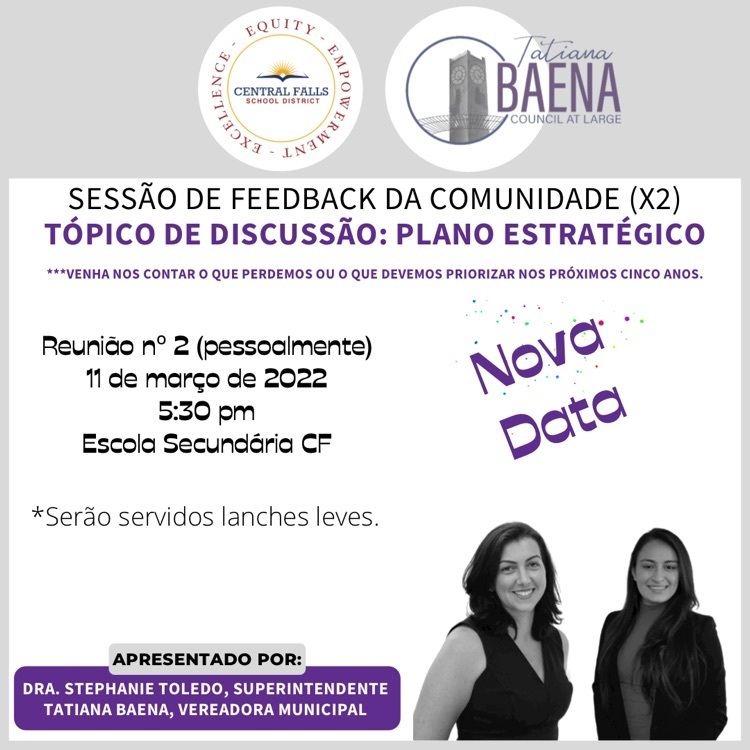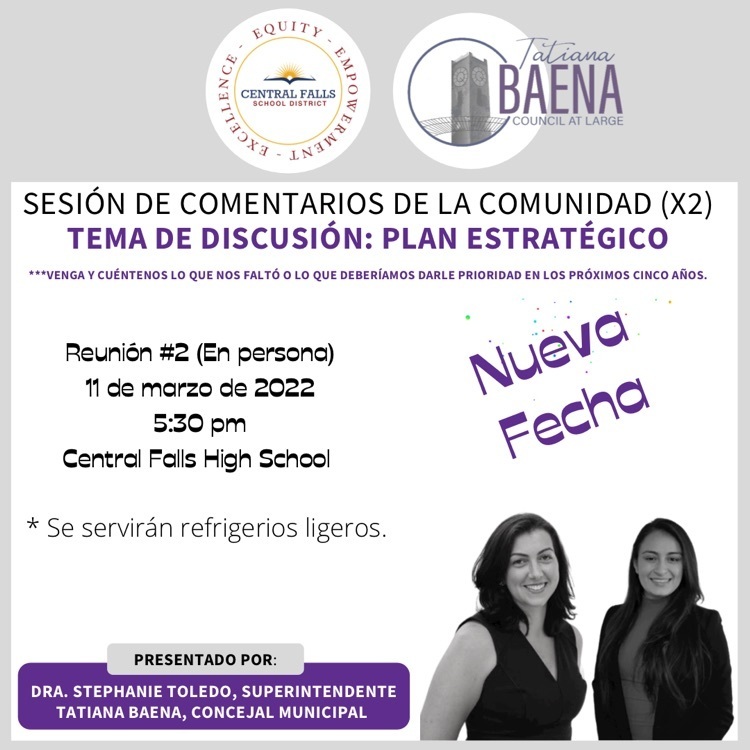 March 4, 2022 / 4 de marzo de 2022 Families/Staff, Our current masking policy remains in effect until further notice. Familias/Personal, Nuestra política actual de uso de máscaras permanece vigente hasta nuevo aviso.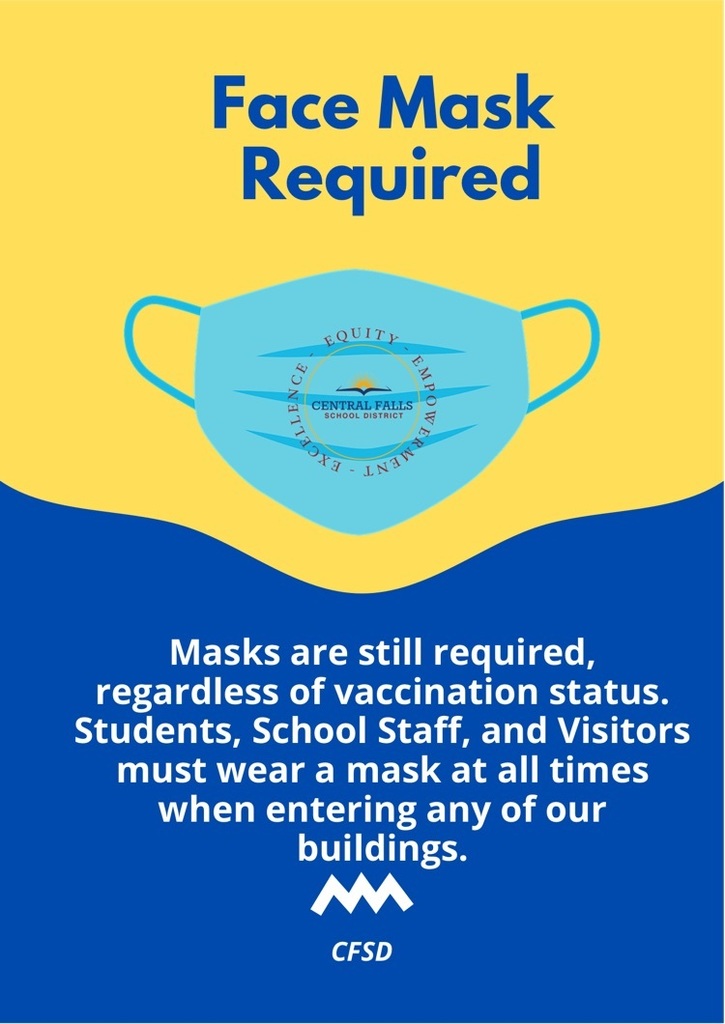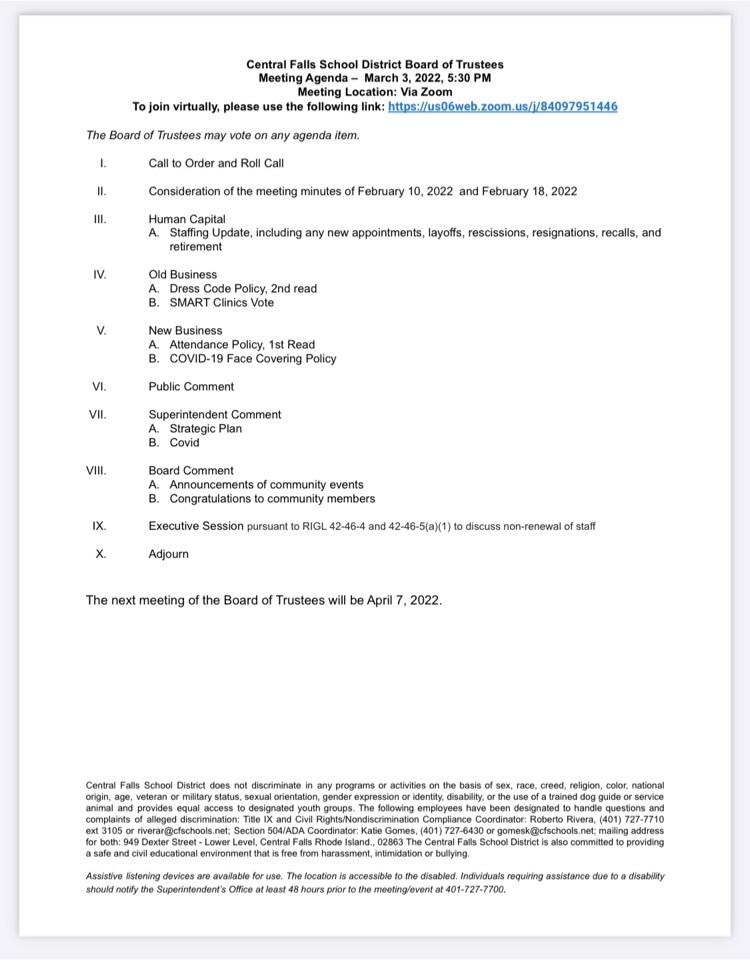 🚨Dear Families/Community Members, Due to the weather forecast, we have decided to cancel the community feedback session that was scheduled for tomorrow at 5:30 pm. A new date for this meeting will be announced soon. 🚨Estimadas Familias/Miembros de la comunidad, Debido al pronóstico del tiempo y por precaución, hemos decidido cancelar la sesión de comentarios de la comunidad que estaba programada para mañana a las 5:30 p. m. Próximamente se anunciará una nueva fecha para esta reunión. 🚨 Prezados familiares/membros da comunidade, Devido à previsão do tempo e com muita cautela, decidimos cancelar a Sessão de Feedback da Comunidade que estava marcada para amanhã às 17h30. m. Uma nova data para esta reunião será anunciada em breve.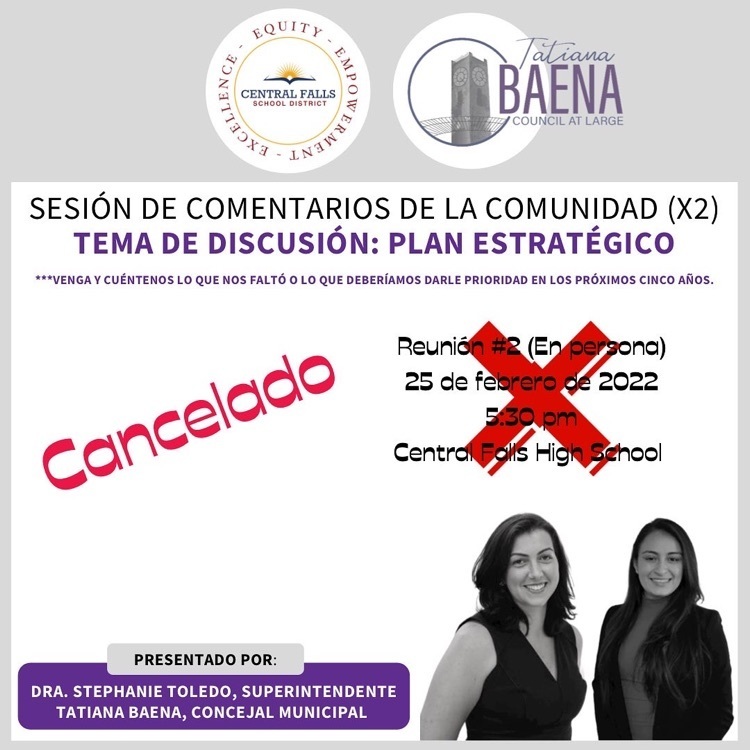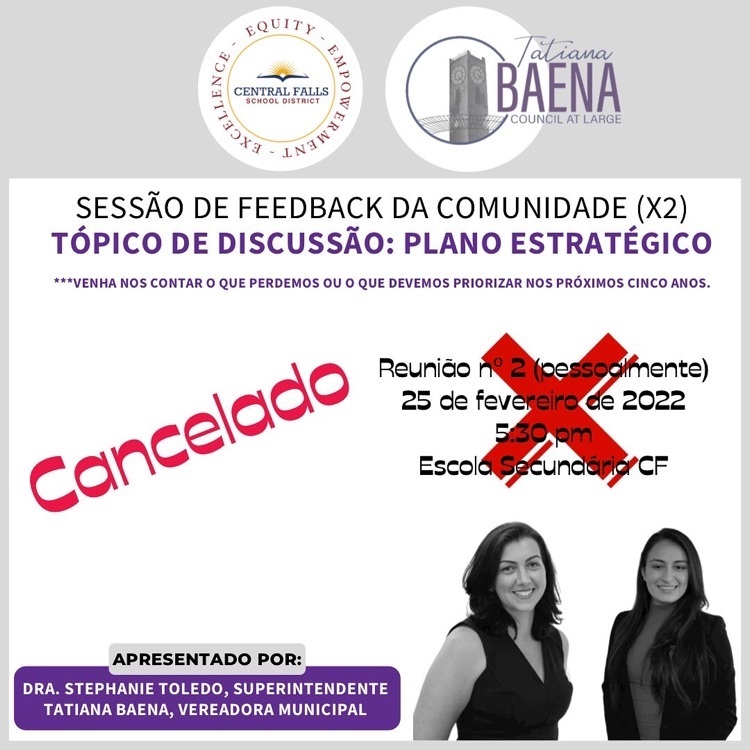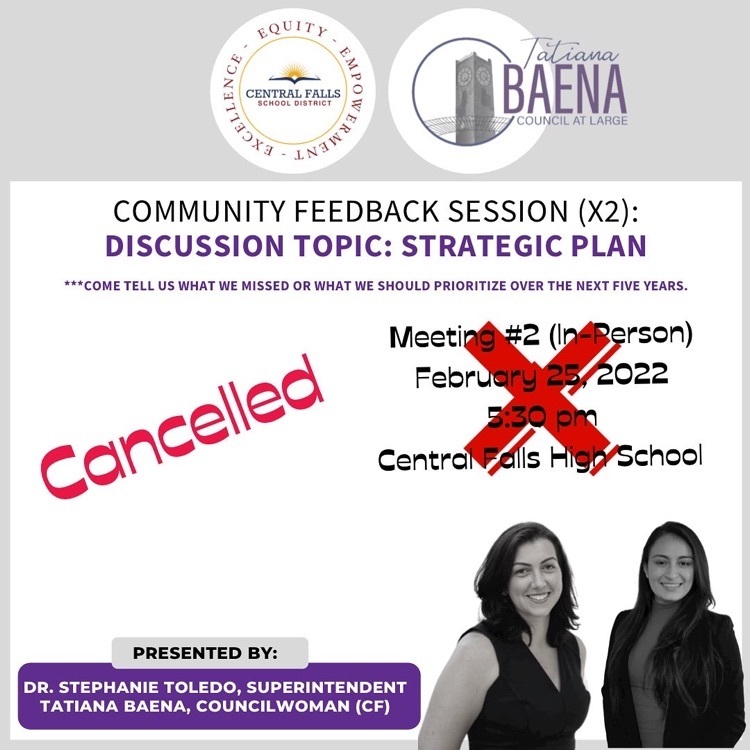 Families, A couple of weeks ago we shared this video
https://bit.ly/3GgmpBa
that walks you through the district's priorities over the next five years. We are excited to invite you to join us for a virtual feedback session on Friday 2/18 at 5:30 pm or in-person on Friday, 2/25 at 5:30 pm. Come tell us what we missed or what we should prioritize over the next five years. Link to join the virtual meeting:
https://bit.ly/3GUKoX3
Español: Familias, Hace un par de semanas compartimos este video
https://bit.ly/3GgmpBa
que lo guía a través de las prioridades del distrito para los próximos cinco años. Nos complace invitarlo a unirse a nosotros para una sesión de comentarios virtual el viernes 18 de febrero a las 5:30 pm o en persona el viernes 25 de febrero a las 5:30 p. m. Ven y cuéntanos qué nos faltó o qué debemos darle prioridad en los próximos cinco años. Enlace para unirse a la reunión virtual:
https://bit.ly/3GUKoX3
Português: Famílias, Algumas semanas atrás, compartilhamos este vídeo
https://bit.ly/3GgmpBa
que mostra as prioridades do distrito para os próximos cinco anos. Temos o prazer de convidá-lo a se juntar a nós para uma sessão virtual de feedback na sexta-feira, 18 de fevereiro, às 17h30. m. ou pessoalmente na sexta-feira, 25 de fevereiro, às 17h30. m. Venha nos contar o que perdemos ou o que devemos priorizar nos próximos cinco anos. Link para participar da reunião virtual:
https://bit.ly/3GUKoX3
Councilwoman At-Large Tatiana Baena Stephanie Downey Toledo Lesdin Salazar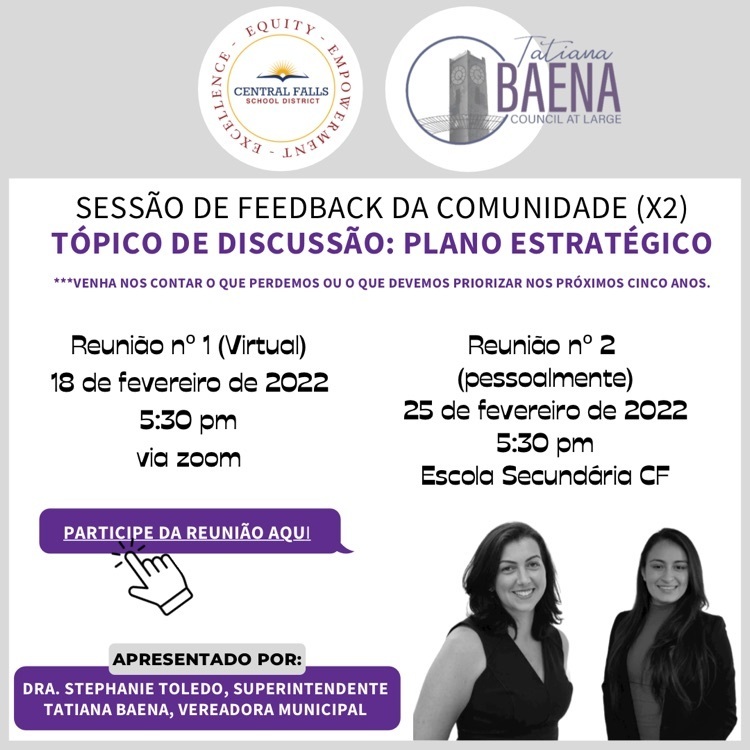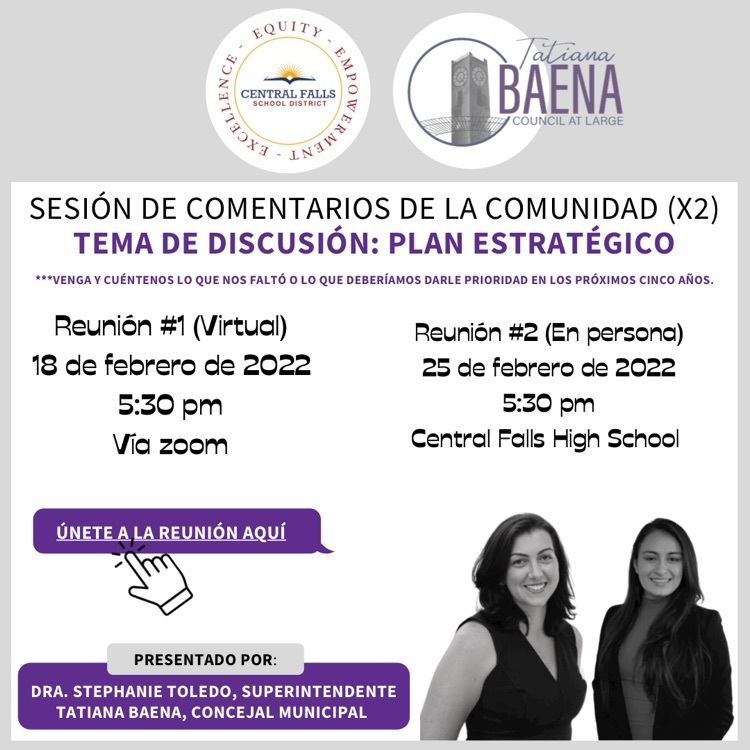 Reminder/Recordatorio/Lembrete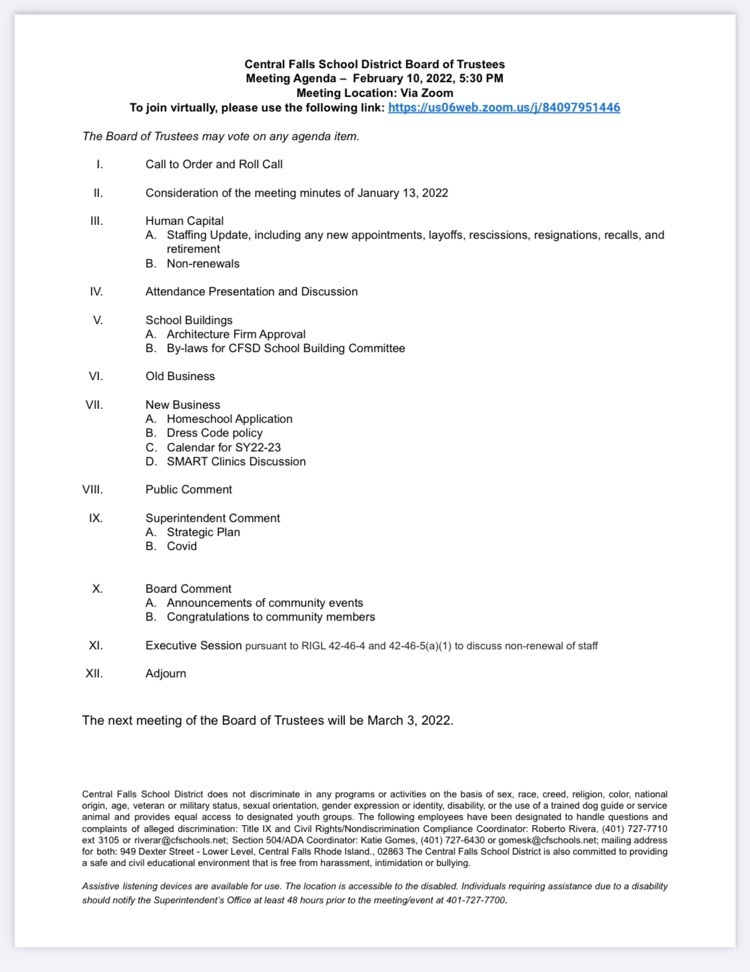 Families, Reminder: Tomorrow is an early release day for all students. Details attached. Familias, Recordatorio: Mañana es un dia de salida temprana para todos los estudiantes. Detalles adjuntos. Familias, Lembrete: Amanhã é dia de saida mais cedo para todos os alunos. Detalhes em anexo.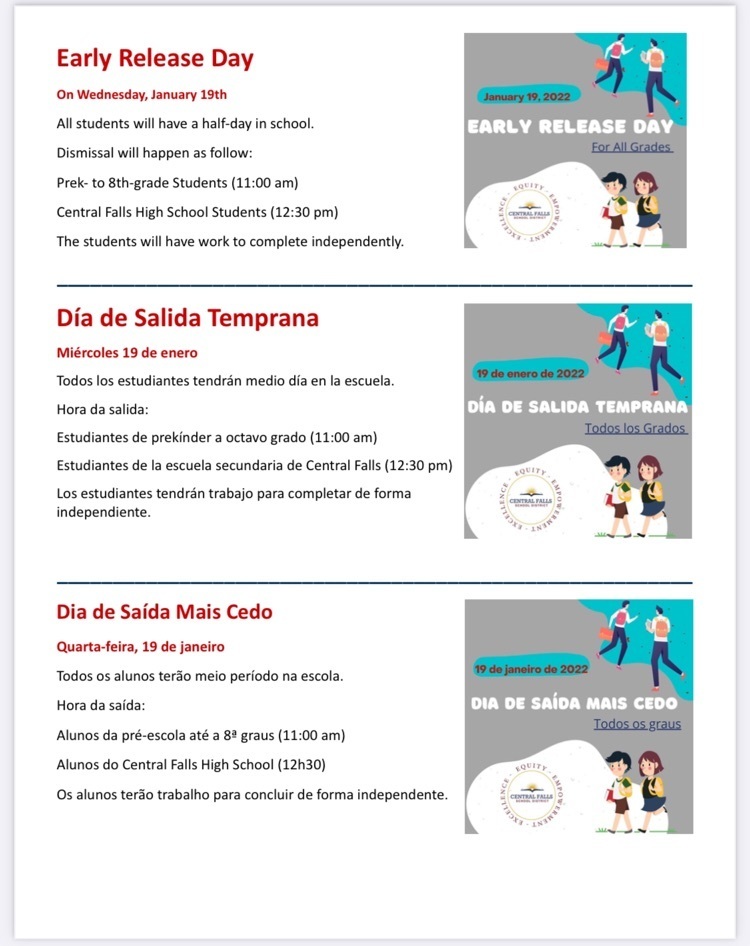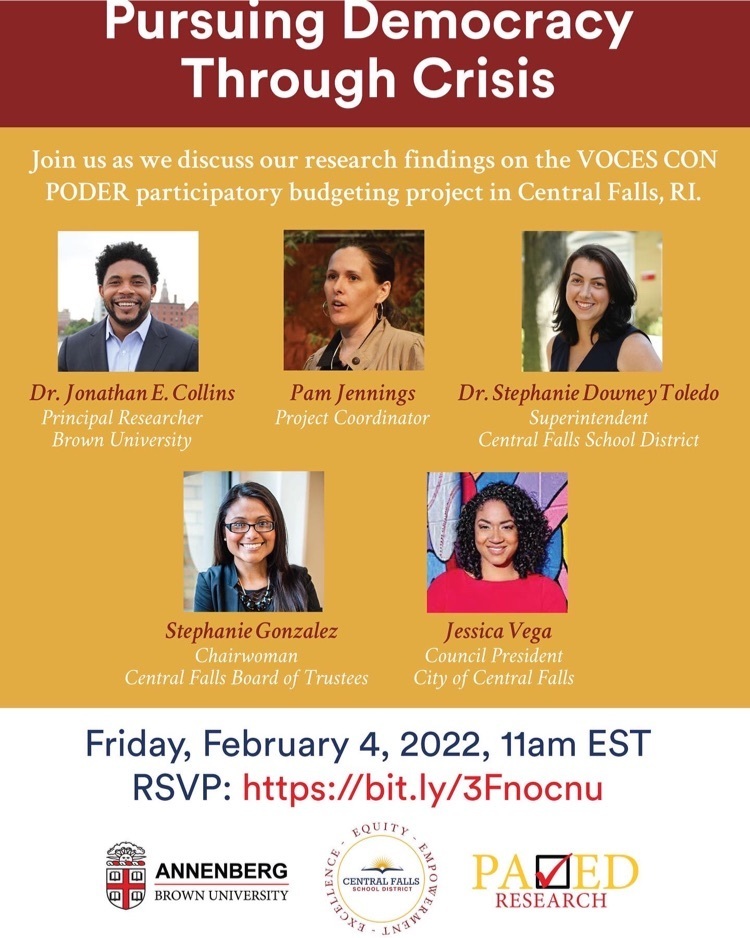 CF Warming Center Centro de Calentamiento de CF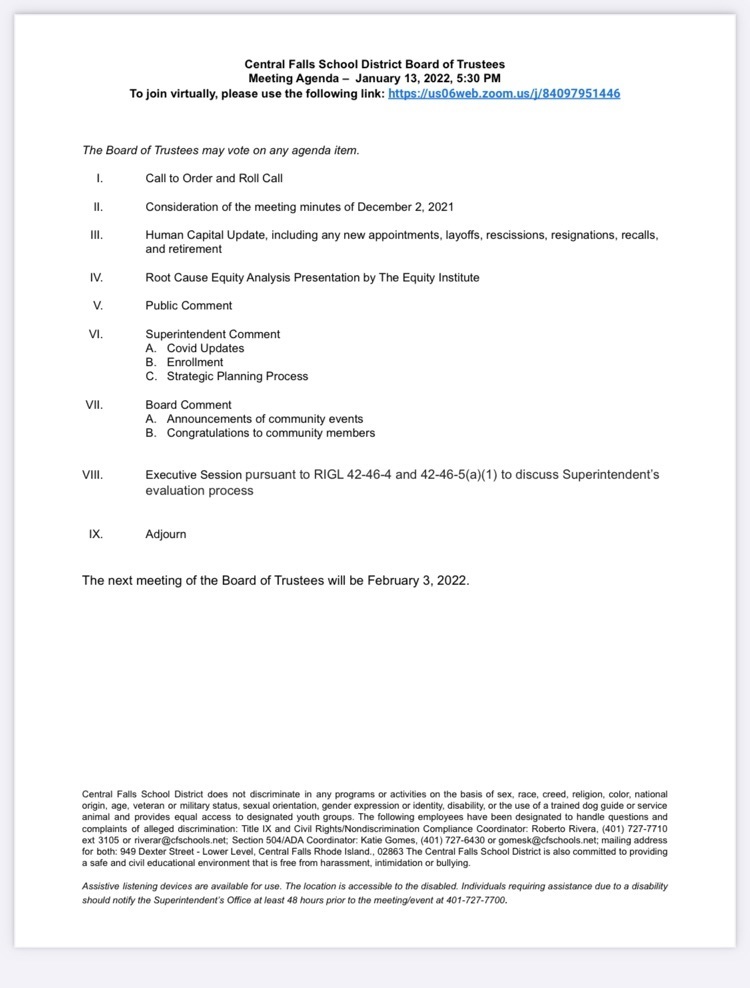 COVID testing clinics. Students ONLY Clínicas de exámenes de COVID. Sólo para estudiantes.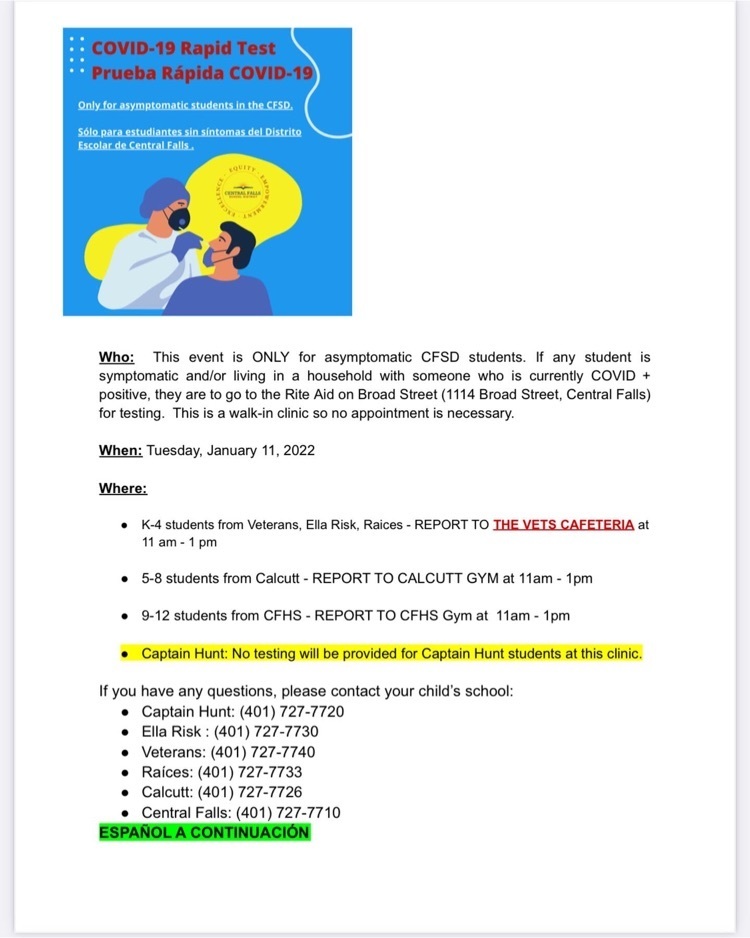 Dear Staff: As you head back to school, please be aware of slippery conditions. No one wants to start their week this way. Proper footwear is very important. You can always bring in more fashionable footwear to wear inside. Stay safe. Stay aware.
Stay safe!/ ¡Manténgase a salvo! No school for students. No habrá clases para los estudiantes. The City of Central Falls has established a parking ban until further notice./La ciudad de Central Falls ha establecido una prohibición de estacionamiento hasta nuevo aviso.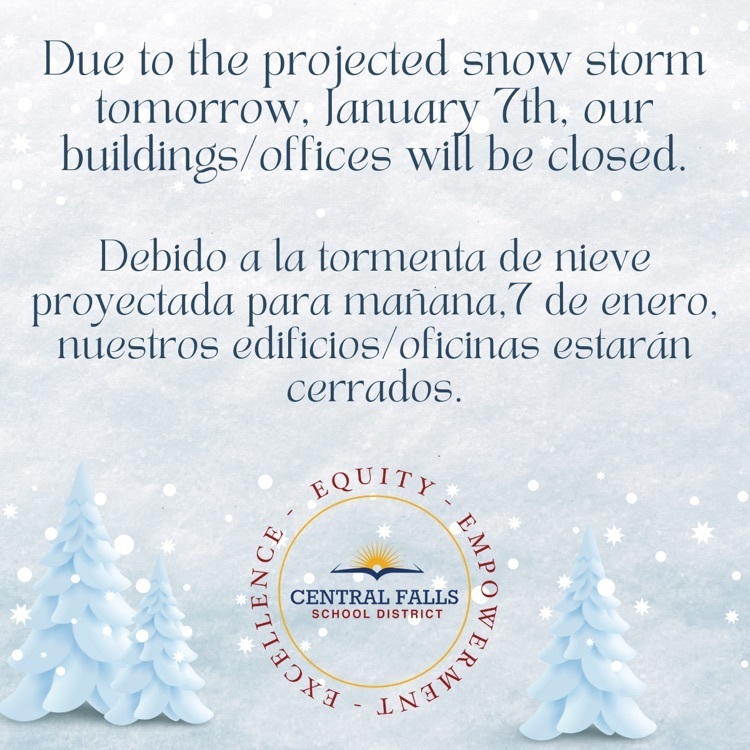 Gifts of JOY from Orijinbees!!! Melissa Orijin and Family Donate Dolls to Captain Hunt! They visited the school on Friday, December 17th. Every classroom received a basket of Dolls to add to our Dramatic play center. Melissa was a student of Central Falls through High School and chose us to give back to the community that supported her growth. Visit her website
https://orijinbees.com/
to learn more about why she developed these beautiful dolls. Regalos de ALEGRÍA de Orijinbees !!! ¡Melissa Orijin y su familia donan muñecas a Captain Hunt! La familia visitó la escuela el viernes 17 de diciembre. Cada salón de clases recibió una canasta de muñecas para agregar a nuestro centro de juegos dramáticos. Melissa fue una estudiante de Central Falls hasta la escuela secundaria y nos eligió para retribuir a la comunidad que apoyó su crecimiento. Visite su sitio web
https://orijinbees.com/
para obtener más información sobre por qué desarrolló estas hermosas muñecas.