The City of Central Falls is hosting its 1st annual Thanksgiving Drive! 🦃 They will be offering CF households a free turkey and fixings while supplies last. -- ¡Nuestra ciudad está organizando su primera campaña anual de Acción de Gracias! 🦃 Estarán ofreciendo a los hogares de CF un pavo y guarniciones gratis hasta agotar existencias.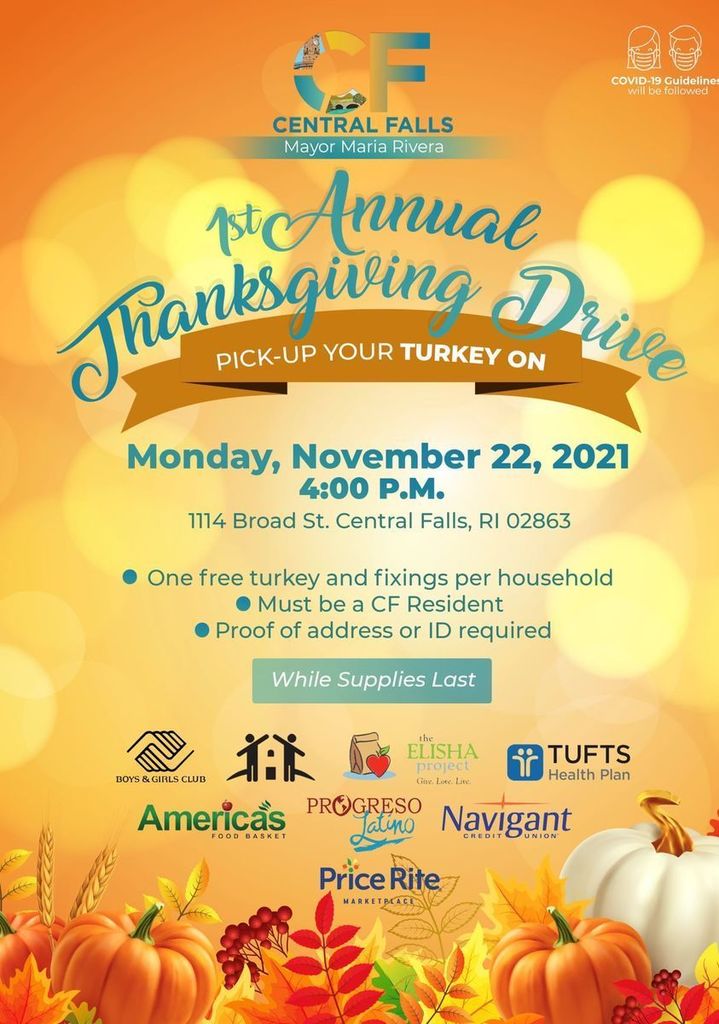 The city of Central Falls is happy to donate winter coats for their residents. *ONLY ADULT SIZE COATS La ciudad de Central Falls se complace en donar abrigos de invierno para nuestros residentes. *SOLAMENTE ABRIGOS EN TALLAS DE ADULTOS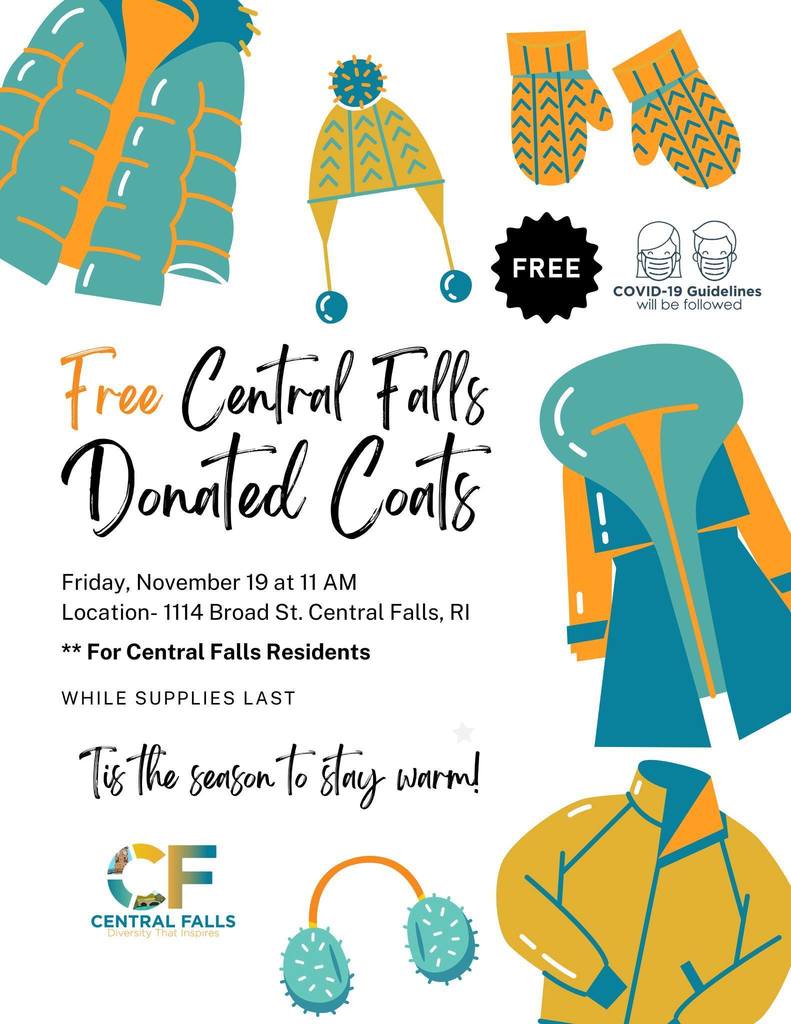 Thanksgiving Bash! Free thanksgiving groceries and more: 🦃 Inflatables 🦃 Games 🦃 Fun characters 🦃 Face painting The event will take place this Saturday, November 20th, from 11 am to 1:00 pm at Ella Risk School (949 Dexter Street, Central Falls) ¡Fiesta de Acción de Gracias! Alimentos de Acción de Gracias gratis y más: 🦃 Casas inflables 🦃 Juegos 🦃 Personajes divertidos 🦃 Pintura para las caritas Este evento se llevará a cabo este sábado, 20 de noviembre, de 11:00 am a 1:00 pm en la escuela Ella Risk (949 Dexter Street, Central Falls)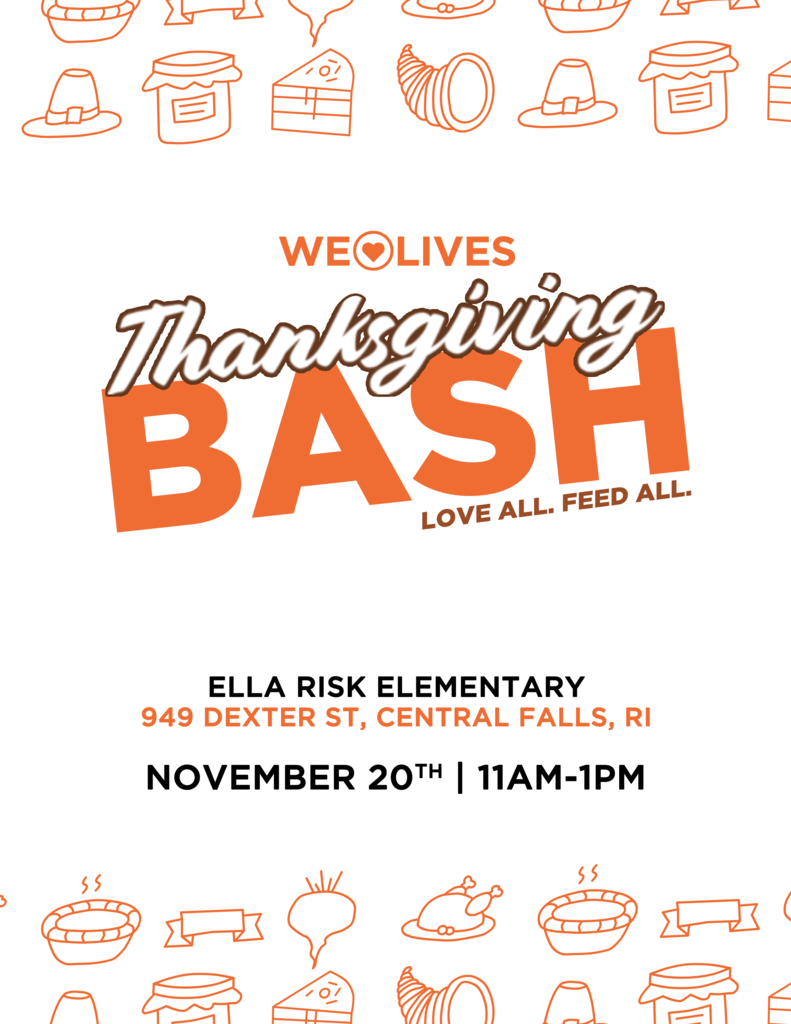 Attention Families! Important letter from Rhode Island Department of Health-RIDOH and Rhode Island Department of Education - RIDE: RHODE ISLAND SCHOOL VACCINATION EVENTS FOR CHILDREN AGE 5 TO 11. If you have questions, this Monday at 6 pm, the RI Department of Health will host a virtual event on Facebook where pediatrician Elizabeth Lange and RIDOH Medical Director James McDonald will provide more information. Link to join the event(English session)
https://bit.ly/3bLofxl
-------------------------------------------------------------------------------------------- Español: ¡Atención familias! Carta importante del Departamento de Salud y El Departamento de Educación de RI: EVENTOS DE VACUNACIÓN EN LAS ESCUELAS DE RHODE ISLAND PARA NIÑOS DE 5 A 11 AÑOS. Si tiene preguntas, este lunes a las 7 pm, el Departamento de Salud de RI tendrá un evento virtual en su página de Facebook donde la pediatra Carla Martin y la Vice-Gobernadora Sabina Matos darán más información al respecto. Enlace para unirse a la reunión en Español:
https://bit.ly/3kdXmGW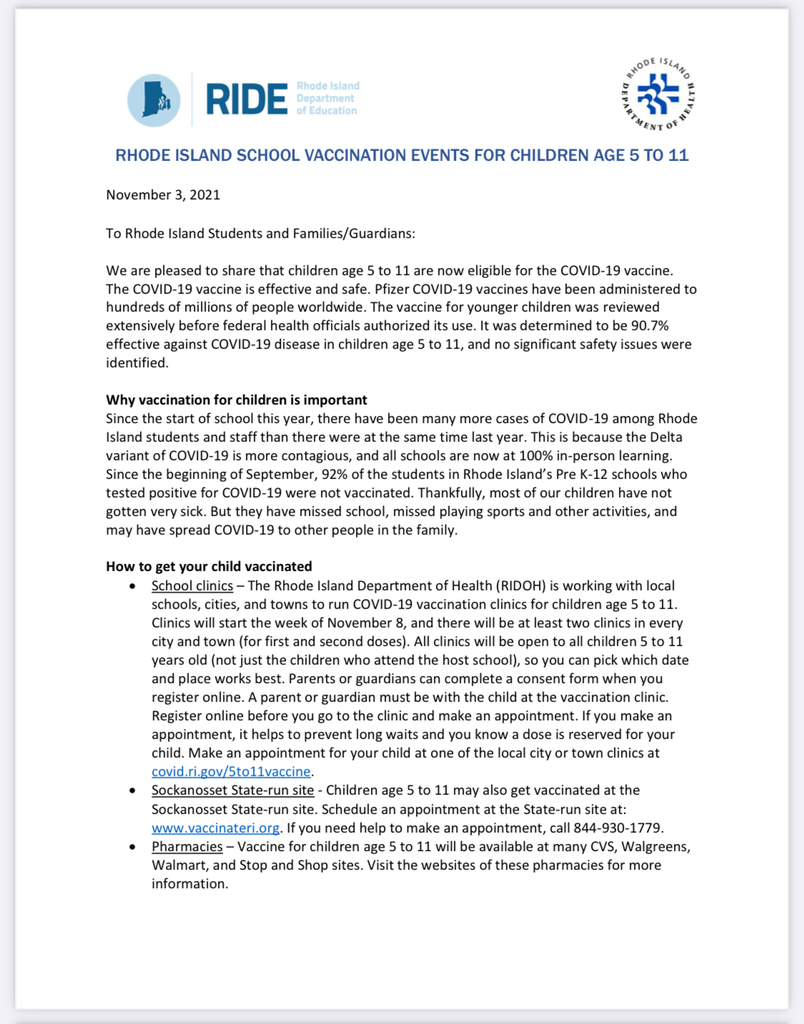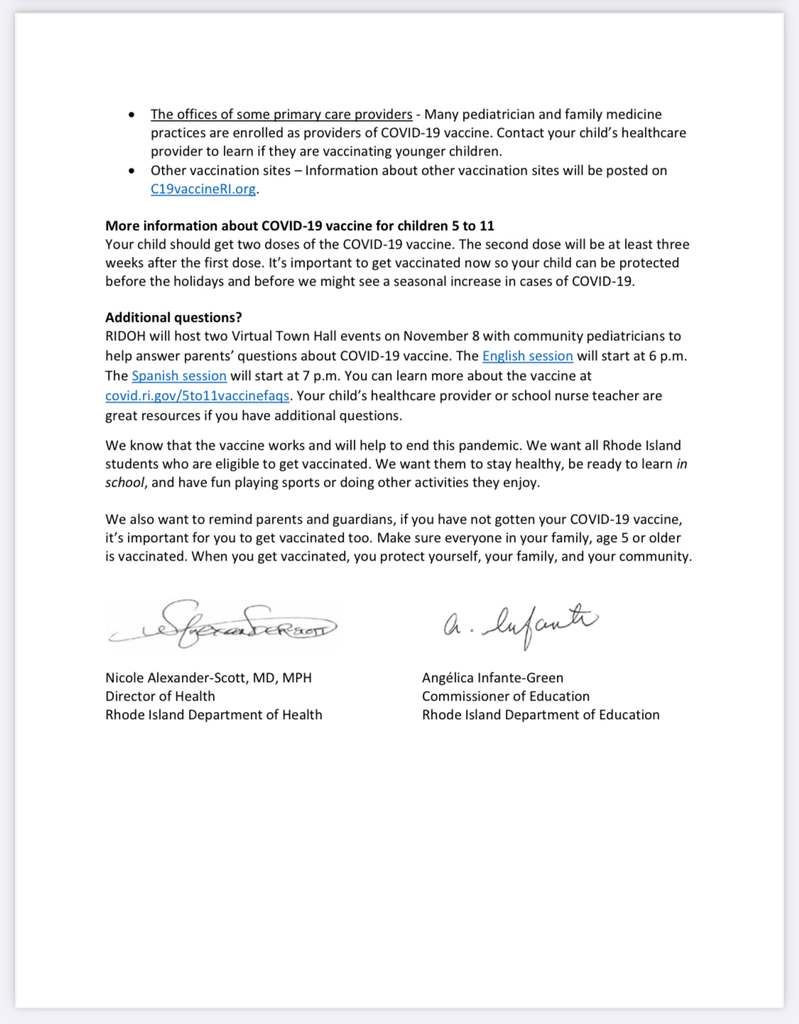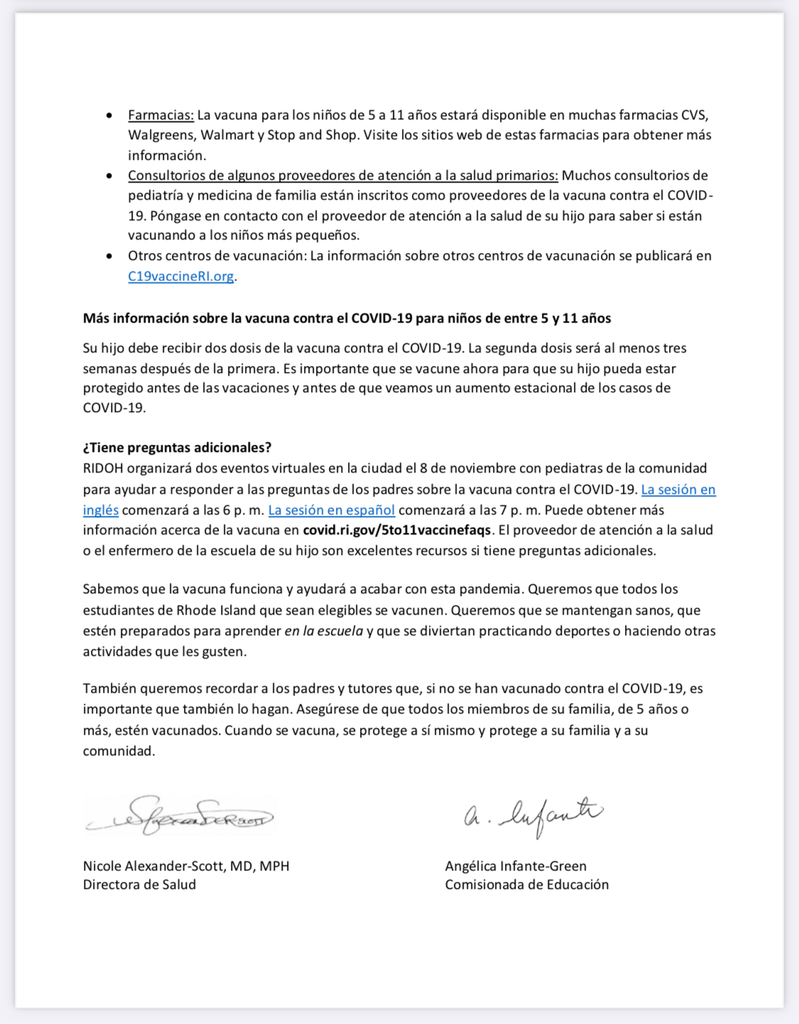 Congratulations to all the parents who graduated from our Leadership Academy today. We are VERY proud of each one of you. Looking forward to seeing you in action collaborating together to improve our schools. #CFEXCELLENCE #CFEMPOWERMENT Felicitaciones a todos los padres que se graduaron hoy de nuestra Academia de Liderazgo. Estamos MUY orgullosos de cada uno de ustedes. Esperamos verlos en acción colaborando juntos para mejorar nuestras escuelas. #CFEXCELENCIA #CFEMPODERAMIENTO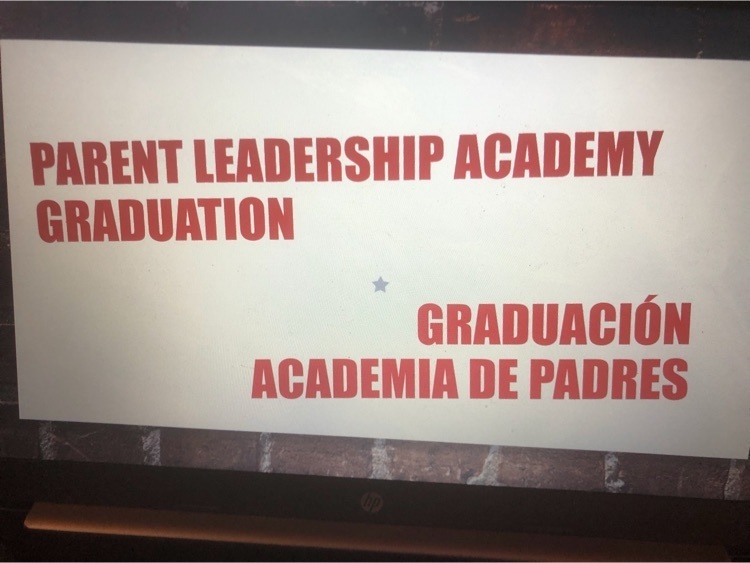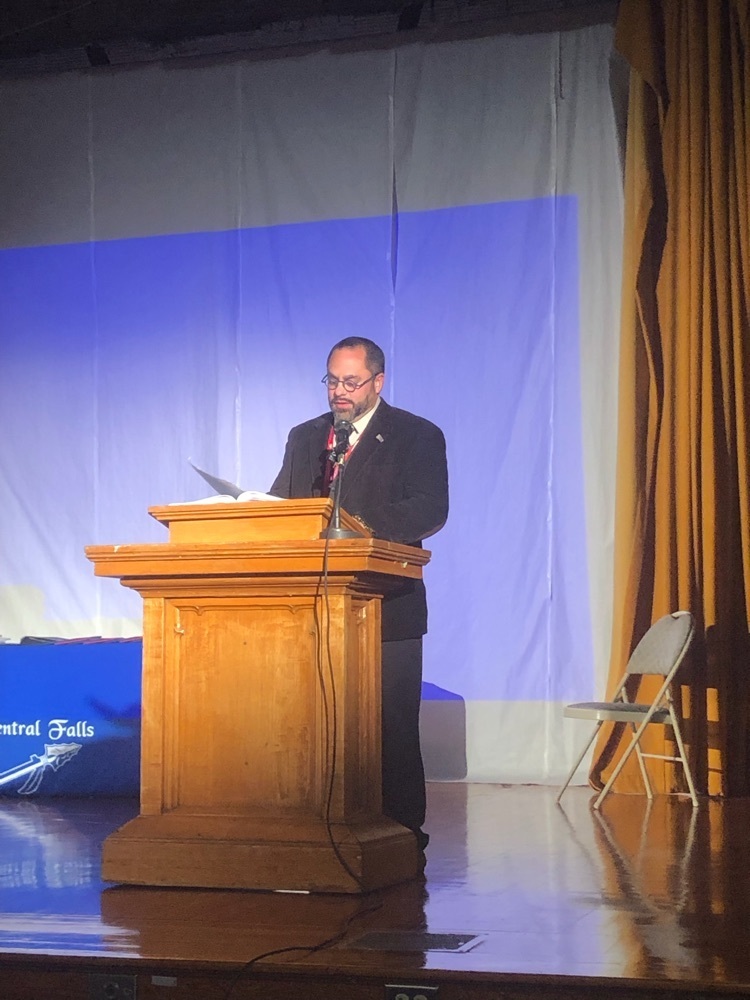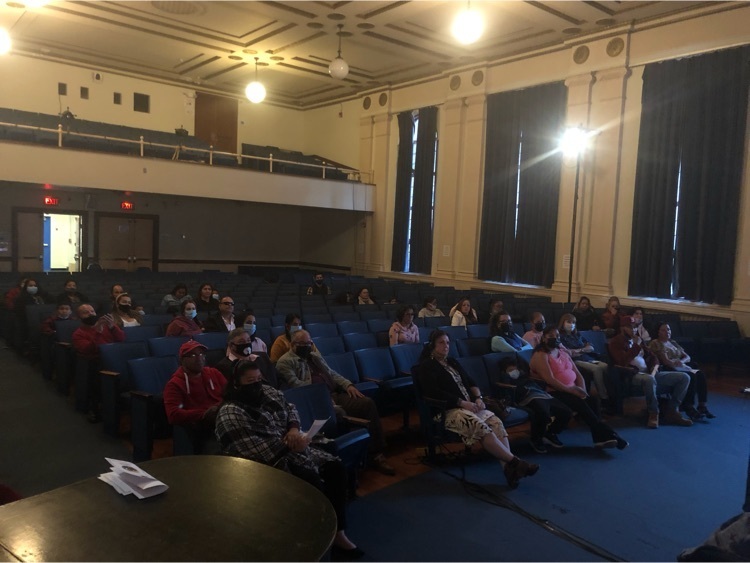 Our Family And Community Engagement Team (FACE)has been providing a Family Leadership Academy for parents and guardians of the Central Falls School District the past six weeks. Yesterday, they had the pleasure of welcoming Councilwoman Tatiana Baena, Councilman and Board of Trustees member Hugo Figueroa, and Vice Chair of the Board of Trustees, Sonia Grace for a conversation about how they got involved in the community, what they're most proud of, and advice for our newly engaged leaders. We are proud to have 22 members of the Academy who will be graduating tonight at 5pm! Nuestro Equipo de Participación de la Familia y la Comunidad (FACE, por sus siglas en Inglés) ha estado proporcionando una Academia de Liderazgo Familiar para los padres y tutores del Distrito Escolar de Central Falls durante las últimas seis semanas. Ayer, tuvieron el placer de dar la bienvenida a la Concejal Tatiana Baena, al Concejal y miembro de la Junta Escolar, Hugo Figueroa y a la Vicepresidenta de la Junta Escolar, Sonia Grace, para una conversación sobre cómo se involucraron en la comunidad, de qué están más orgullosos y consejos para nuestros recién comprometidos líderes. ¡Estamos orgullosos de tener 22 miembros de la Academia que se graduarán esta noche a las 5 pm!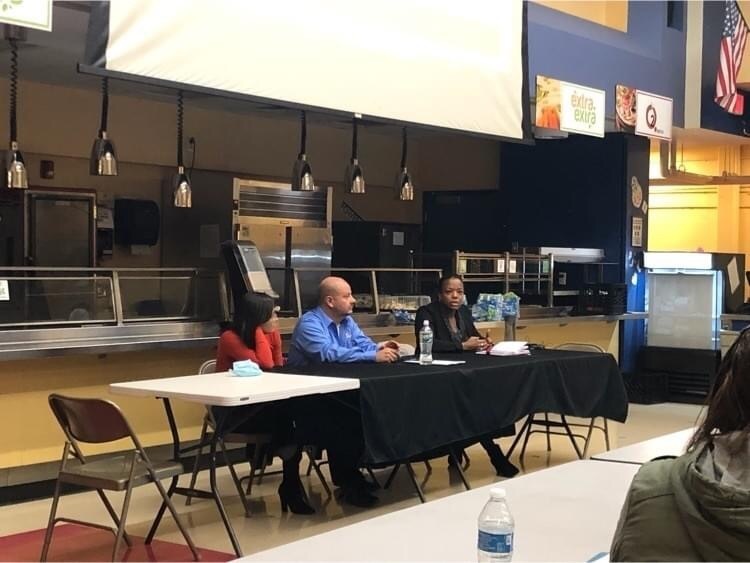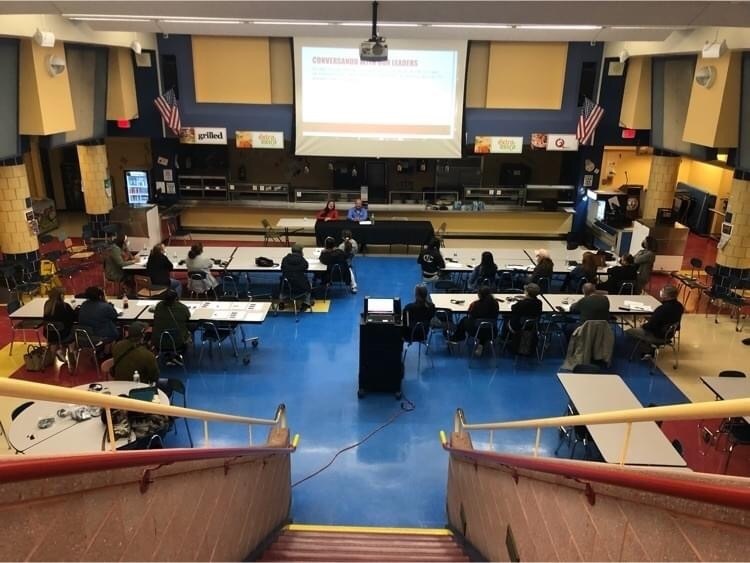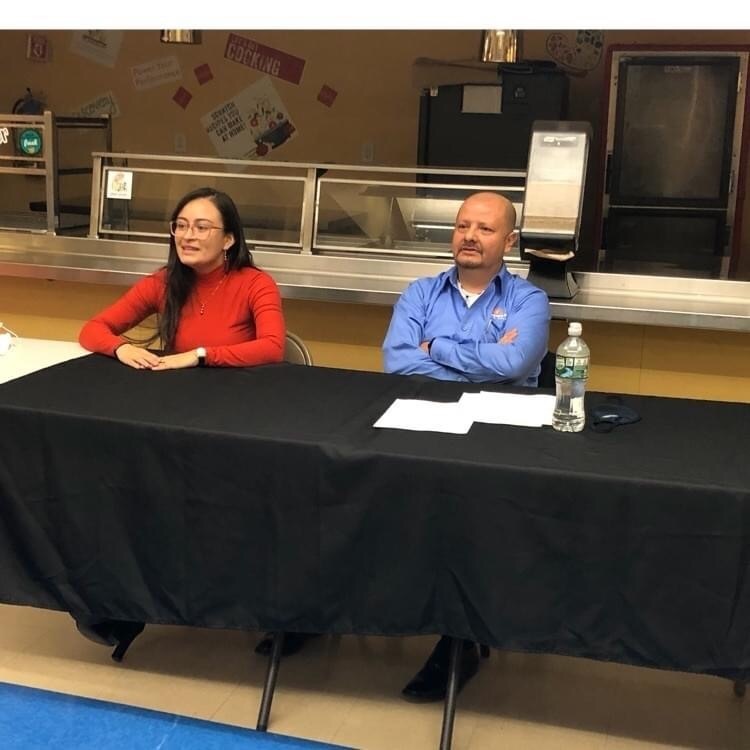 Want to learn about the Federal Application for FREE Student Aid? Check out our FAFSA Financial Aid Information:
https://5il.co/115rh
¿Quiere saber más sobre la Solicitud Federal de Ayuda Estudiantil GRATUITA? Consulte nuestra información de ayuda financiera FAFSA
https://5il.co/115rg

Culture Day is Friday, October 15! Come to school dressed in clothing that represents where you or your family are from to recognize the rich influence of history, culture, and achievements of everyone in the Central Falls Schools Community!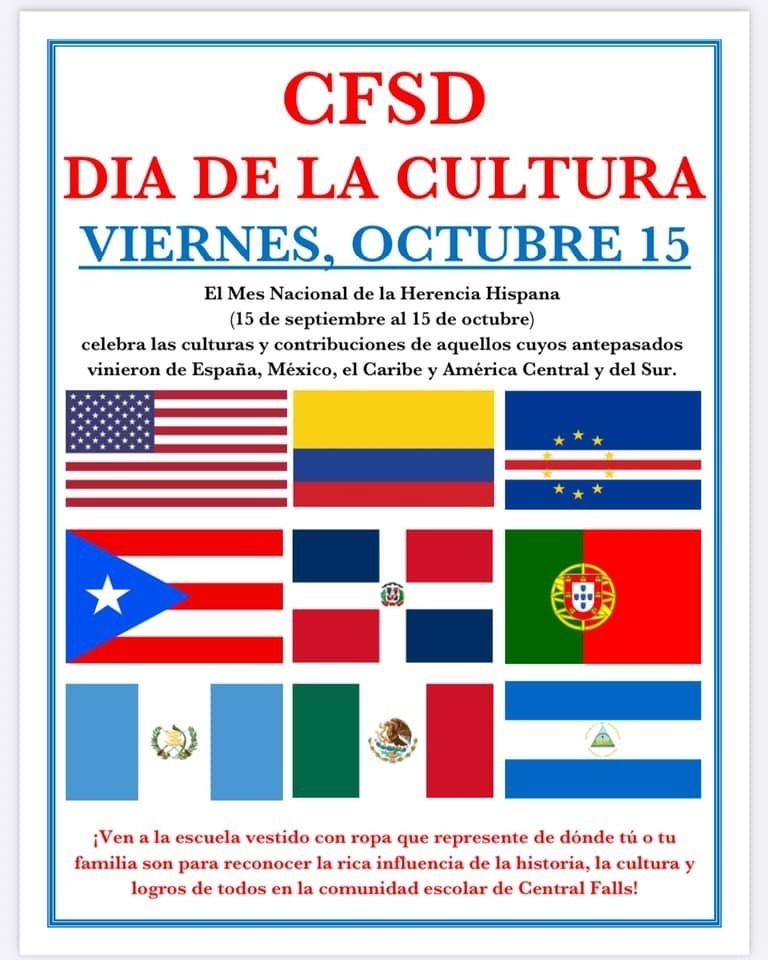 CFHS School Couselor Newsletter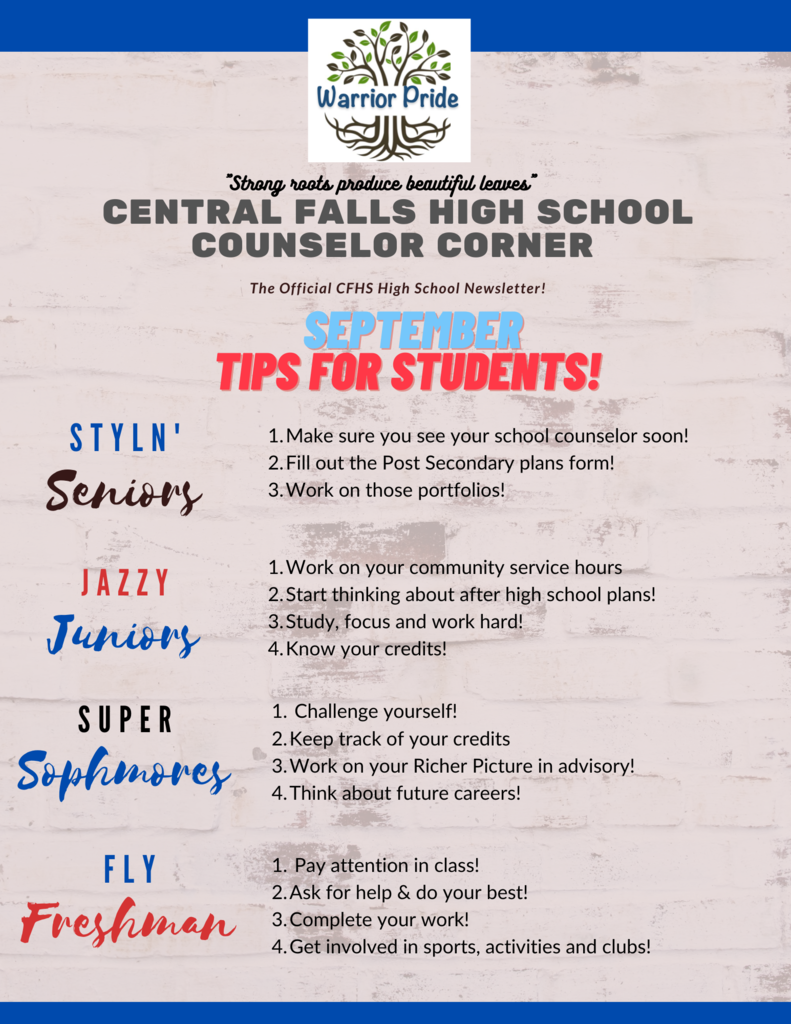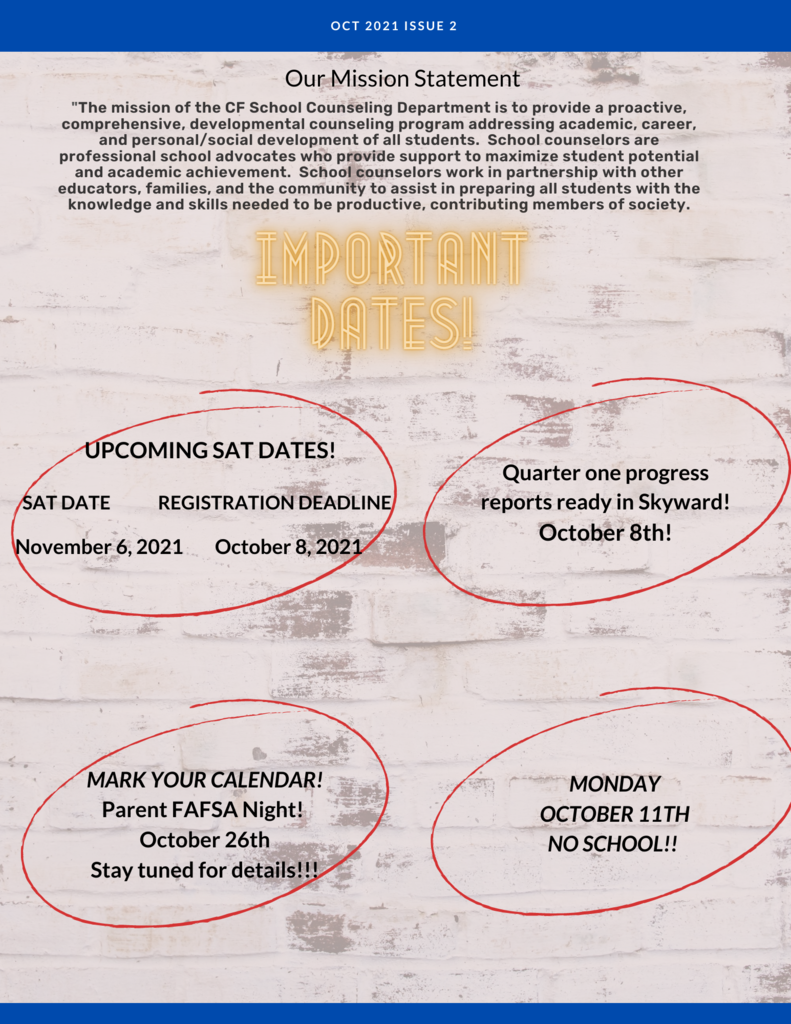 College Week: September 20-24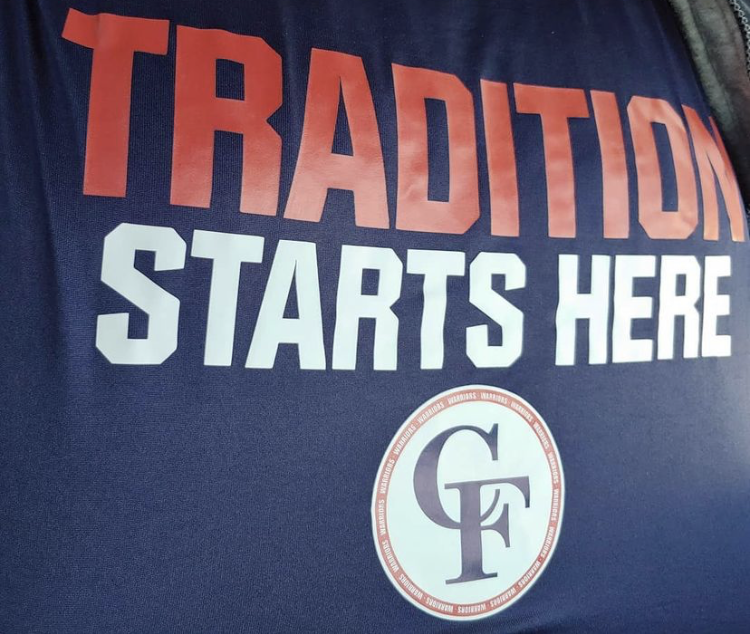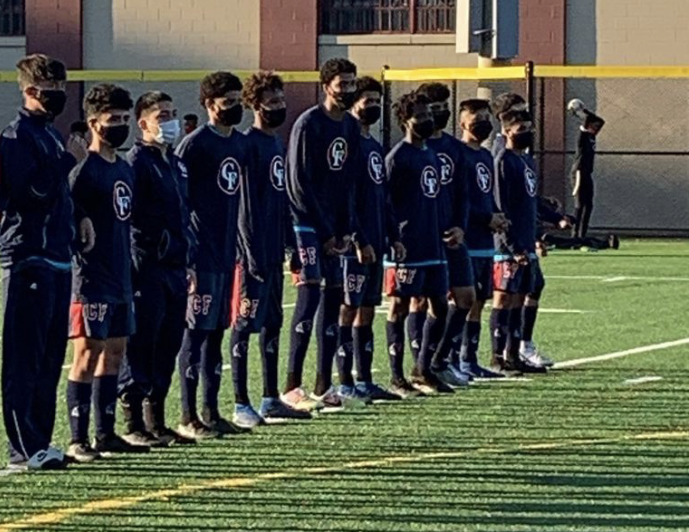 Have your voice heard! What you say matters! Join 1 of 3 virtual focus groups on January 26, 27, or 28. Earn up to $100! To sign up email Ms. Jackie at
barbosaj@cfschools.net
or call Aura and Noel at 401-680-5960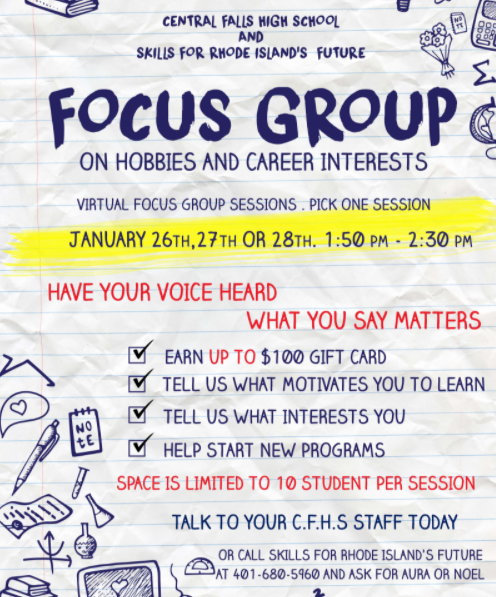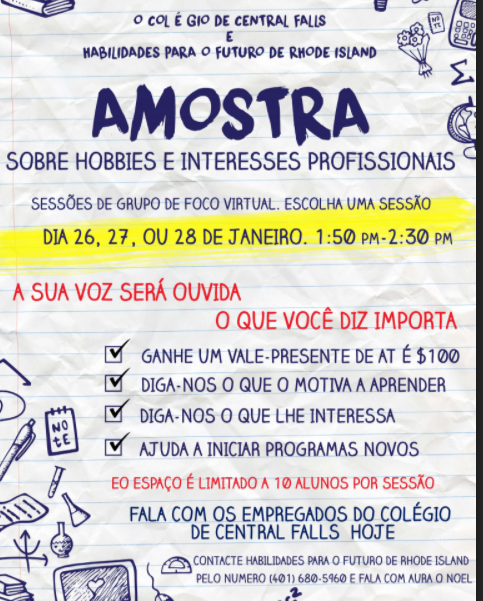 Writing Contest (TW: Cancer) The Cancer Unwrapped Teen Writing Contest opens a dialogue with teens about their emotions and realities when dealing with cancer, whether their own diagnosis or that of a loved one. This annual event encourages teens to write about their experiences for the opportunity to win one of several $1,000 cash prizes. We aim to give a voice to teens representing an array of social identities and lived experiences. Cancer Pathways (formerly Gilda's Club) has a mission of 'facing cancer together'. This writing contest is one of the ways we help teens and their families realize they are not alone. You can also learn more about the contest on our website -
https://cancerpathways.org/programs/cancer-unwrapped/
Contest Eligibility & Guidelines: Open to students in grades 9-12 Essay length must range between 500-1,000 words The contest deadline is March 14th, 2021 at midnight PST Cash prizes of $1,000 will be awarded to the winners.

Help the Central Falls Police Department name their new K9. Submit a name using the form - bit.ly/CFPD-K9. Submissions are due December 13th. Keep it clean, respectful, and creative!!

Virtual training series for youth and young adults (ages 14-24). Go to bit.ly/CopingCOVID-yac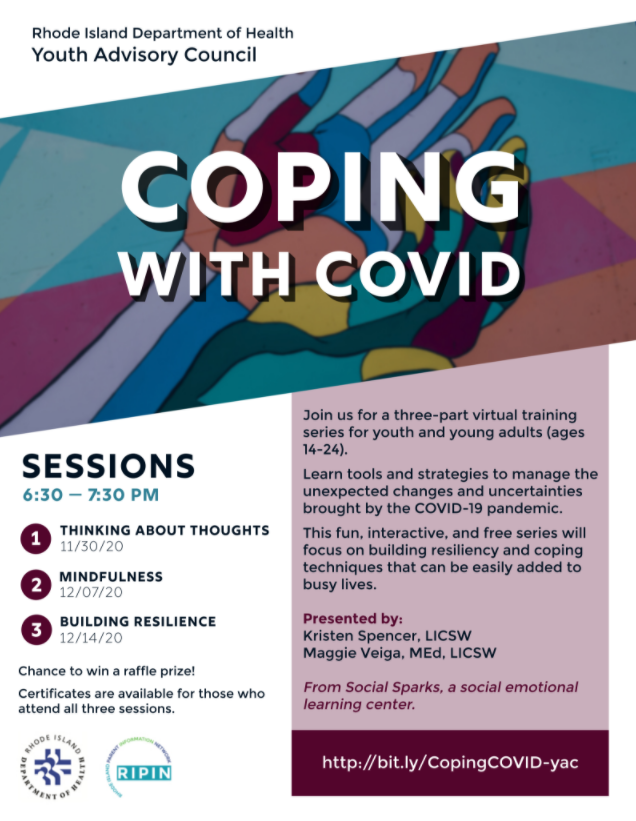 Monday Nov 16th and Thursday Nov 19th there will be a virtual college fair with ALL of the RI four year Colleges. The event is from 4-6pm on zoom. This event is open to all grades (9th-12th) as well as to all faculty and staff. Please pass along this information to students, friends, and family. If you are interested in attending please visit bit.ly/RIcollegefair to register for the event! After you register a zoom link will be sent to you on Monday morning! We hope everyone is having a wonderful year and is staying safe and healthy.

Flu Clinic! Calcutt Middle School 112 Washington St Central Falls, RI 02863 Friday 13, November 9 am - 6 pm Friday 20, November 9 am - 6 pm