Culture Day is Friday, October 15! Come to school dressed in clothing that represents where you or your family are from to recognize the rich influence of history, culture, and achievements of everyone in the Central Falls Schools Community!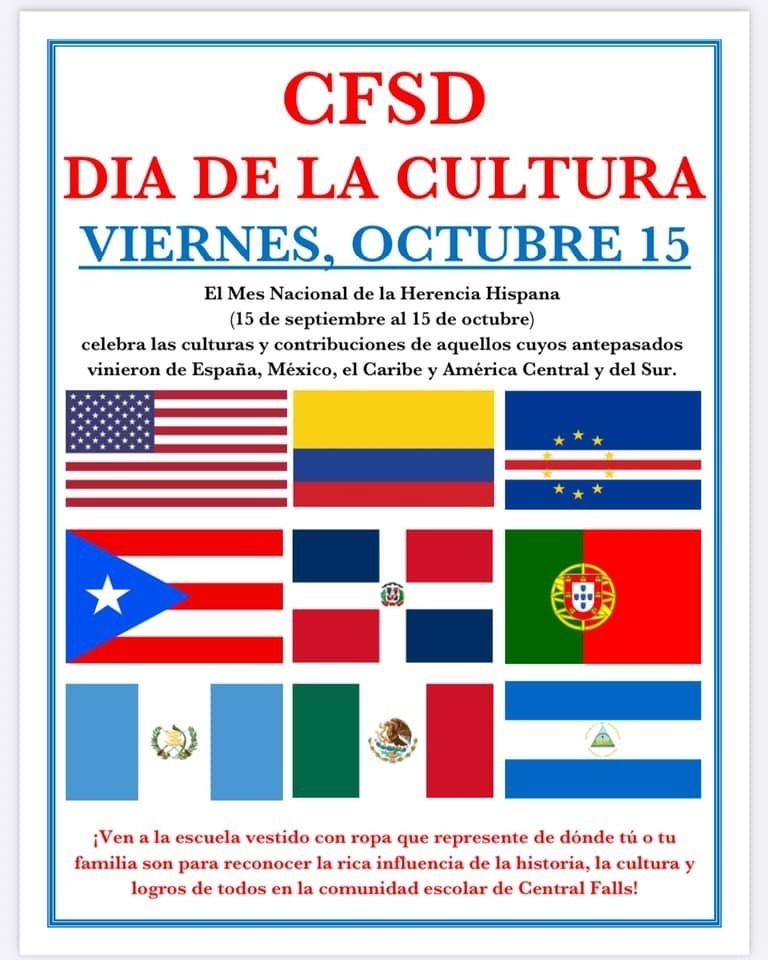 CFHS School Couselor Newsletter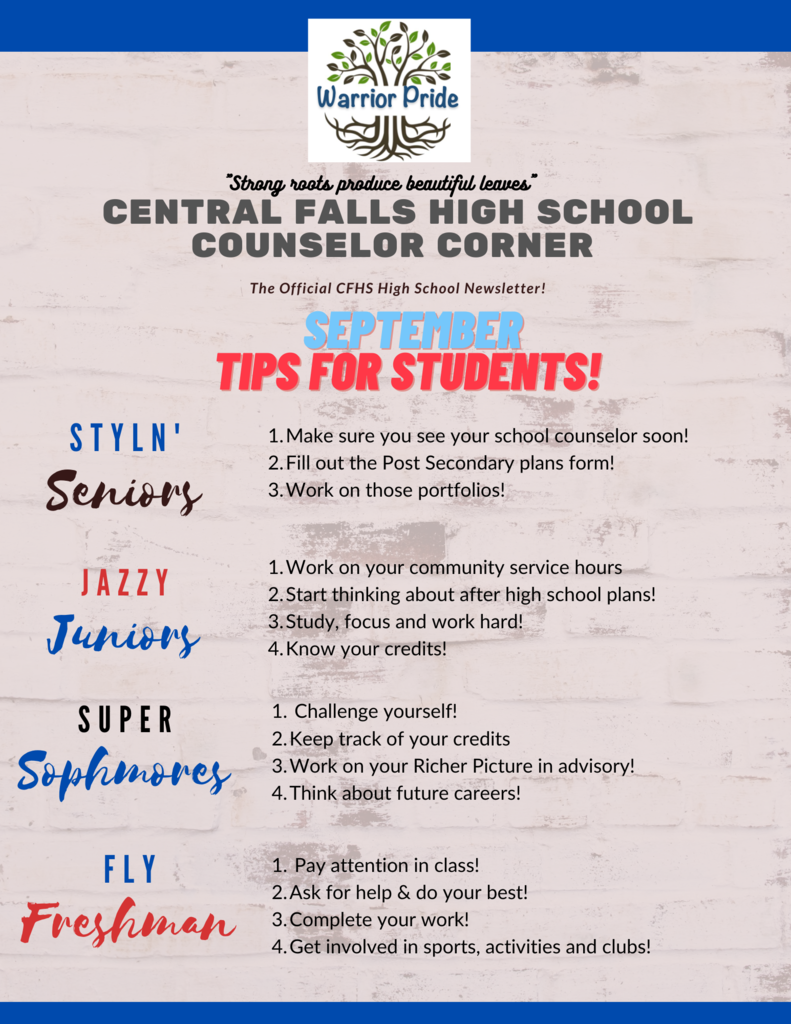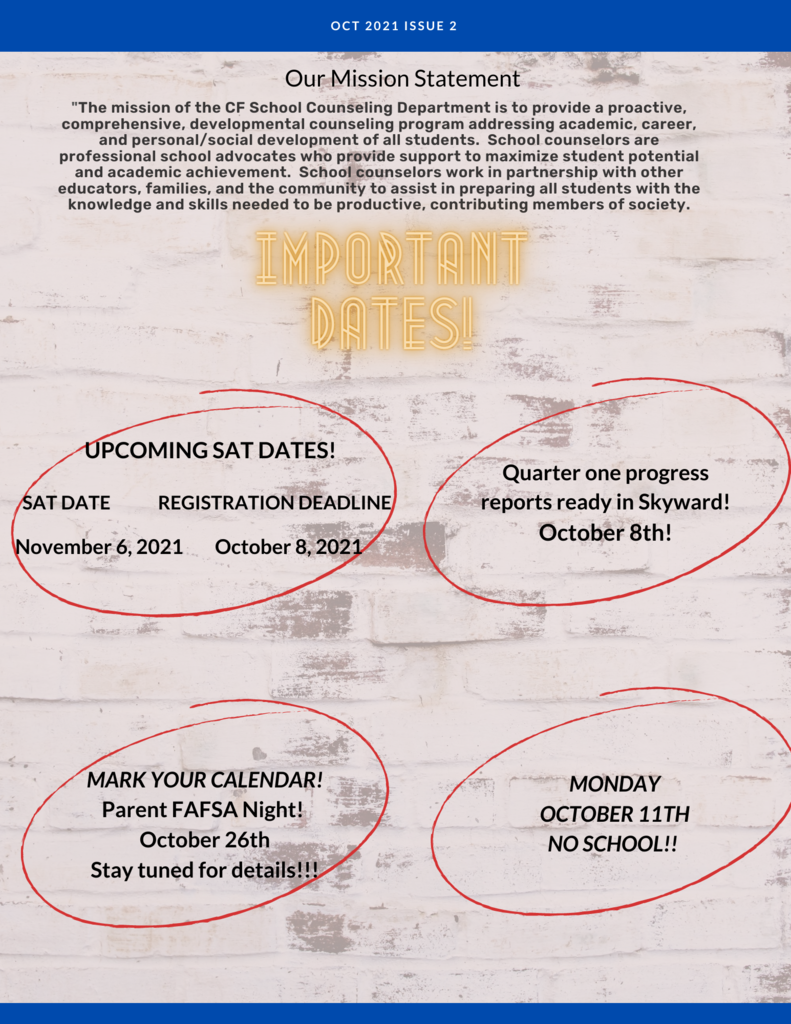 College Week: September 20-24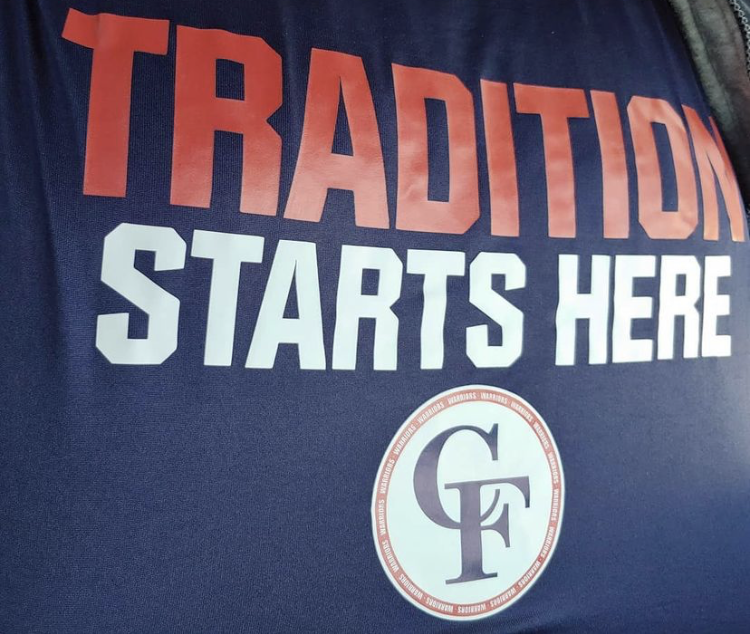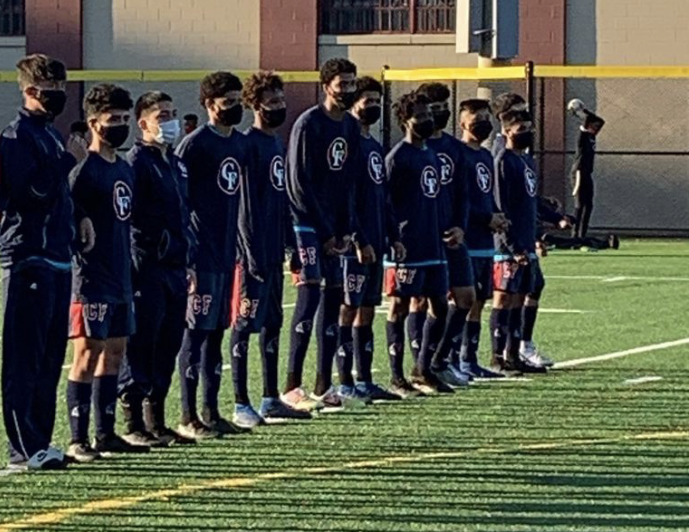 Have your voice heard! What you say matters! Join 1 of 3 virtual focus groups on January 26, 27, or 28. Earn up to $100! To sign up email Ms. Jackie at
barbosaj@cfschools.net
or call Aura and Noel at 401-680-5960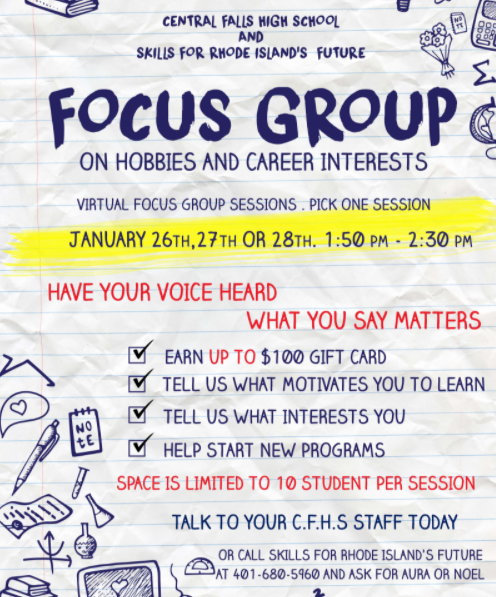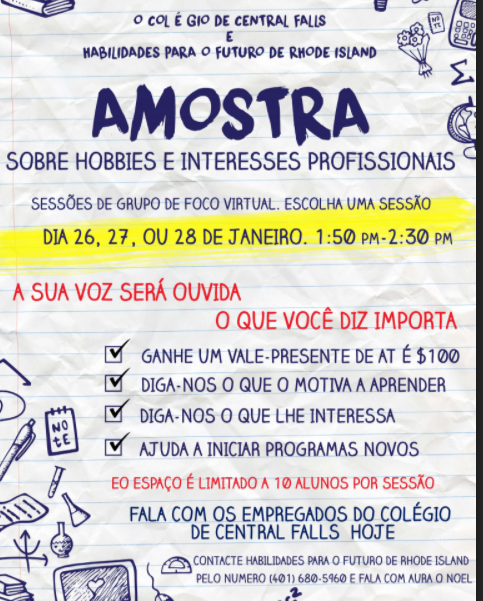 Writing Contest (TW: Cancer) The Cancer Unwrapped Teen Writing Contest opens a dialogue with teens about their emotions and realities when dealing with cancer, whether their own diagnosis or that of a loved one. This annual event encourages teens to write about their experiences for the opportunity to win one of several $1,000 cash prizes. We aim to give a voice to teens representing an array of social identities and lived experiences. Cancer Pathways (formerly Gilda's Club) has a mission of 'facing cancer together'. This writing contest is one of the ways we help teens and their families realize they are not alone. You can also learn more about the contest on our website -
https://cancerpathways.org/programs/cancer-unwrapped/
Contest Eligibility & Guidelines: Open to students in grades 9-12 Essay length must range between 500-1,000 words The contest deadline is March 14th, 2021 at midnight PST Cash prizes of $1,000 will be awarded to the winners.

Help the Central Falls Police Department name their new K9. Submit a name using the form - bit.ly/CFPD-K9. Submissions are due December 13th. Keep it clean, respectful, and creative!!

Virtual training series for youth and young adults (ages 14-24). Go to bit.ly/CopingCOVID-yac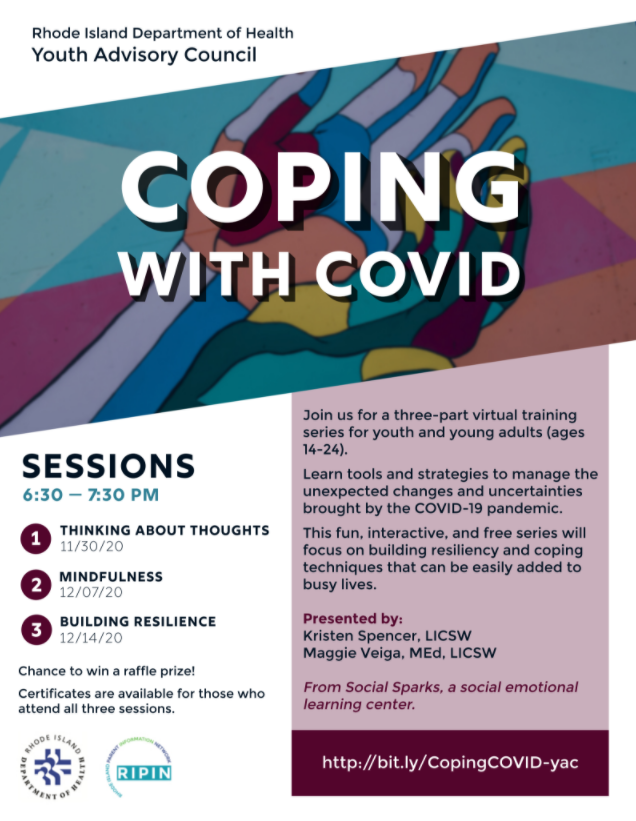 Monday Nov 16th and Thursday Nov 19th there will be a virtual college fair with ALL of the RI four year Colleges. The event is from 4-6pm on zoom. This event is open to all grades (9th-12th) as well as to all faculty and staff. Please pass along this information to students, friends, and family. If you are interested in attending please visit bit.ly/RIcollegefair to register for the event! After you register a zoom link will be sent to you on Monday morning! We hope everyone is having a wonderful year and is staying safe and healthy.

Flu Clinic! Calcutt Middle School 112 Washington St Central Falls, RI 02863 Friday 13, November 9 am - 6 pm Friday 20, November 9 am - 6 pm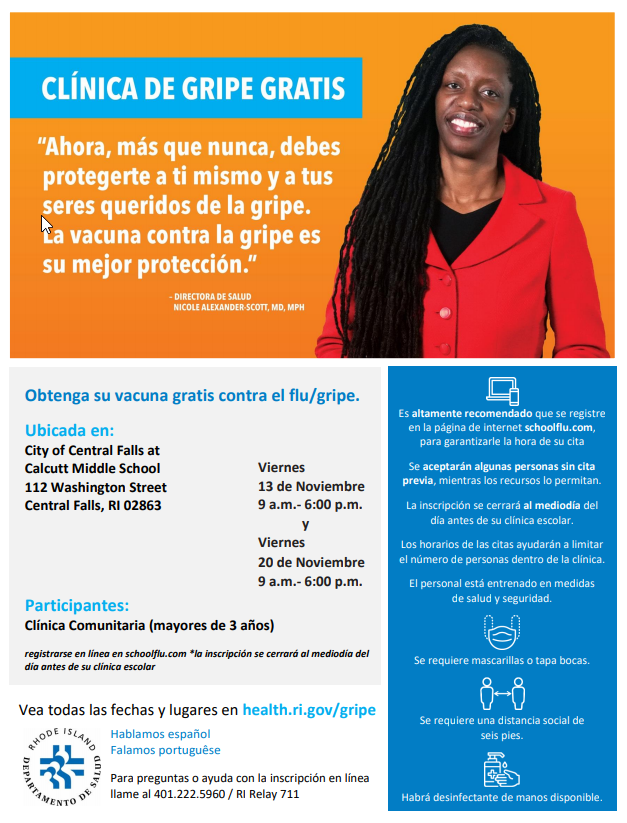 Recruitment is currently open, a total of 25 seats are available, online application at: RIBuilders.org/training-programs, or for more information call Betty Bernal at 401-500-9146 (mobile) or email at
bbernal@ribuilders.org
. 15 Week basic Carpentry Training Program. HS Diploma NOT REQUIRED! Must be at the intermediate level of English! ALL ages 17+ WELCOME! It is a 15-week basic carpentry career training program for participants who demonstrate intermediate English Knowledge and is designed to prepare job seekers looking for a career in residential construction or upskill current construction workers. With emphasis on contextualized English as a Second Language Training, participants will obtain 40-Hours of contextualized English training in construction terminology, employability skills and basic math for construction. 10-Hours Job Safety/OSHA for Construction, and 100-Hours of basic carpentry training. In addition, VESL participants can participate in manufacturer demonstrations, meet with industry experts, and refer to industry employers. At the end of the Program participants earn their 150 hours Certificate of Completion and their OSHA-10 Card. Classes are scheduled to start October 26, 2020, contingent to enrollment capacity, and will meet virtually Monday through Thursday 5:30 p.m. to 8:00 p.m. Virtual online start with Microsoft Teams and when it is safe class will transition to hands-on, in-person training at the Rhode Island Builders Association Vocational Training Facility, 10 Higginson Ave., Central Falls, RI 02863.180 Recruitment is currently open, a total of 25 seats are available, online application at: RIBuilders.org/training-programs, or for more information call Betty Bernal at 401-500-9146 (mobile) or email at
bbernal@ribuilders.org
.

Two of our grads are recognized by CS4RI! These graduates are going to college to study computer science. Way to go! #WarriorPride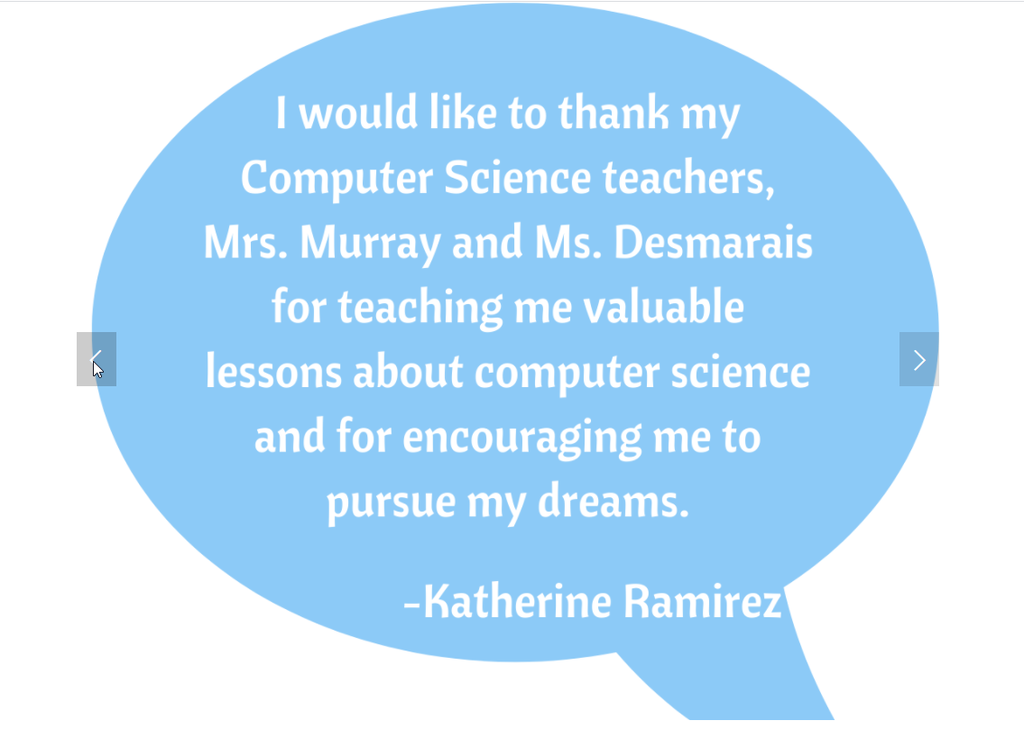 Attention students! Get up to $750 to take a Math or ELA class this Summer If you are going to be in 9th or 12th grade in September, sign up here (
https://ride.gosignmeup.com/Public/Course/Browse
) to take a fully online Math or ELA class for eight weeks from June 29 - August 21 and get paid up to $750 for completing assignments! You can choose to attend either a morning or afternoon virtual session every day for 30 minutes with the whole class, and will then complete assignments in small groups and independently. The Math courses will focus on making sure you are caught up and ready for class in September, and the ELA courses will be reading comedian Trevor Noah's Born a Crime. Learn more about the courses here (
https://www.prepare-ri.org/readiness
) !




Dr. Grant paving the way for #RIReadsatHome challenge. Who will be next to share their reading adventures? #ReadTogether #CFreads #CFSDgoesthedistance @RIDeptEd

BROKEN CHROMEBOOKS: We have learned that some of the Chromebooks that were given to families this week were broken. On Saturday, March 28 at Veterans Elementary school from 10am to 1pm, you can bring a broken device and receive a different one. You must bring the broken device with you. To ensure everyone's health, please only have one person from your family come. We will be following the guidance of social distancing and require everyone to be 6 feet apart and have only 10 people at the location at a time. We ask that if your last name begins with A-M please come between 10am and 11:30am and if your last name begins with N-Z please come between 11:30am and 1pm. Saturday we will also be attempting redeliveries for grades 2nd-8th. Please note there are no additional Chromebooks or hotspots available. If you need wifi, please call COX about their 2 FREE months at 888-234-3993. If you have support questions, including username and password, please email
cf-technology@cfschools.net
.