Join us on Wednesday, October 28 at 7:00 PM on zoom for our second parent forum: using Skyward to access your student's academic, attendance and disciplinary information!
https://us02web.zoom.us/j/86807672456
Meeting ID: 868 0767 2456 Passcode: 019497

Culture Day is Friday, October 15! Come to school dressed in clothing that represents where you or your family are from to recognize the rich influence of history, culture, and achievements of everyone in the Central Falls Schools Community!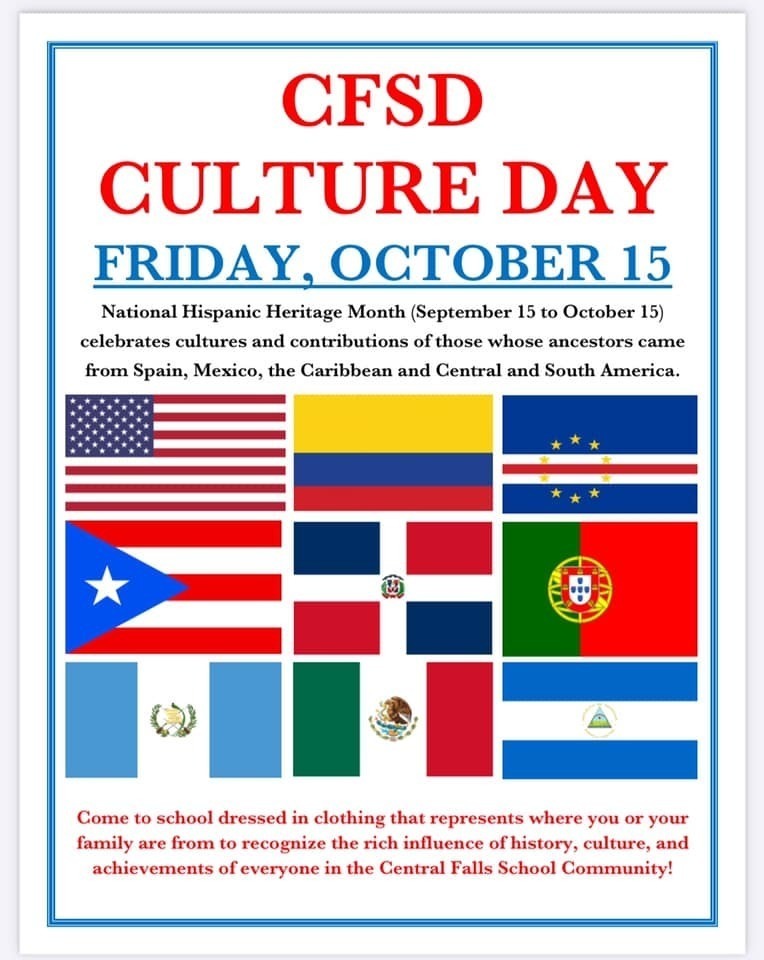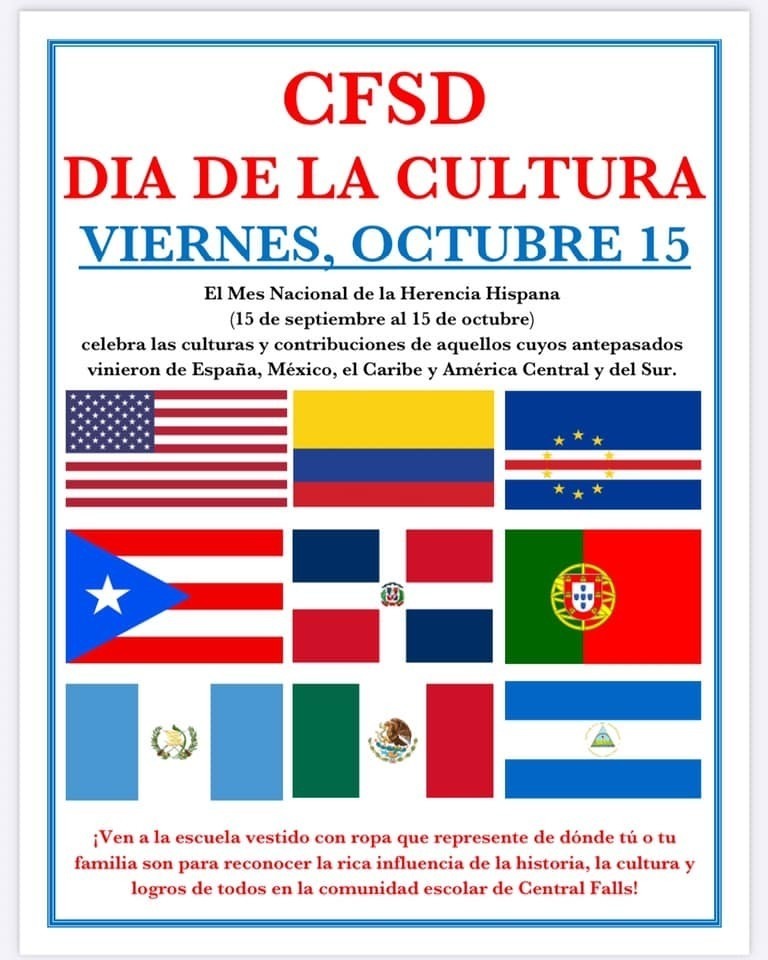 5tb Grade Welcome BBQ!!! On behalf of the of the Calcutt faculty and staff, we would like to welcome our 5th grade students to the Calcutt family. To celebrate our new students we will be hosting a BBQ at Calcutt middle school on August 20, 2021 to welcome our 5th graders and 2 of their guests. This event will start at 11 and end at 1pm. Come join us in this celebration and have a chance to meet your peers, teachers, and support staff. We look forward to seeing you. Tickets can be picked up at Calcutt's main office prior to the event.

BROKEN CHROMEBOOKS: We have learned that some of the Chromebooks that were given to families this week were broken. On Saturday, March 28 at Veterans Elementary school from 10am to 1pm, you can bring a broken device and receive a different one. You must bring the broken device with you. To ensure everyone's health, please only have one person from your family come. We will be following the guidance of social distancing and require everyone to be 6 feet apart and have only 10 people at the location at a time. We ask that if your last name begins with A-M please come between 10am and 11:30am and if your last name begins with N-Z please come between 11:30am and 1pm. Saturday we will also be attempting redeliveries for grades 2nd-8th. Please note there are no additional Chromebooks or hotspots available. If you need wifi, please call COX about their 2 FREE months at 888-234-3993. If you have support questions, including username and password, please email
cf-technology@cfschools.net
.

Calcutt cares about its families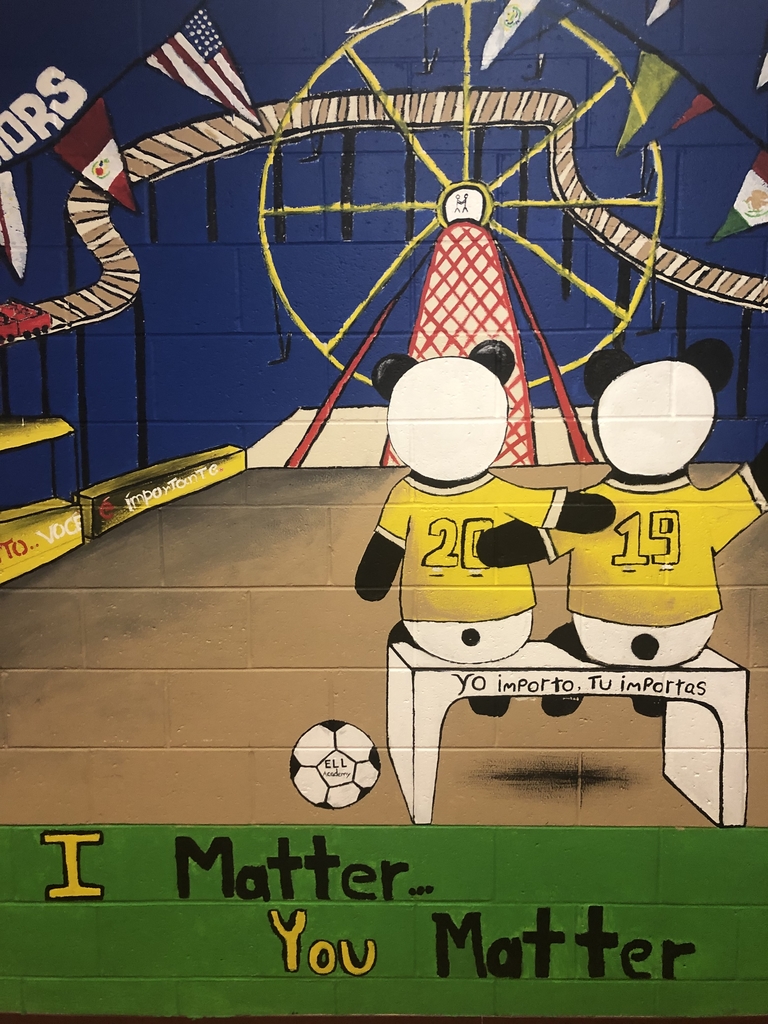 ¡Surveyworks está en vivo! Las familias pueden completar Surveyworks iniciando la sesión en
https://surveys.panoramaed.com/ride/
e introduciendo el código 04115family . ¡Esta es una oportunidad para que USTED nos haga saber cómo podemos ayudar mejor a sus estudiantes a tener éxito!
Surveyworks está ao vivo! As famílias podem concluir o Surveyworks acessando
https://surveys.panoramaed.com/ride/
e inserindo o código 04115family. Esta é uma chance para você nos informar como podemos ajudar melhor seus alunos a ter sucesso!
Surveyworks is live! Families can complete Surveyworks by logging onto
https://surveys.panoramaed.com/ride/
and entering code 04115family . This is a chance for YOU to let us know how we can best help your students succeed!

Familias, recuerden que la escuela comienza de nuevo mañana. ¡Vamos por el 100% de asistencia para todos los 3,000 estudiantes de CFSD! Families, remember school starts again tomorrow. Let's go for 100% attendance for all 3,000 CFSD students!

Did you know your school district has a mobile app? There is an app for that! You can watch this video (
https://bit.ly/2Q6pFs6
) on how to get 'EVERYTHING Central Falls School District' in your pocket! Stay connected with us!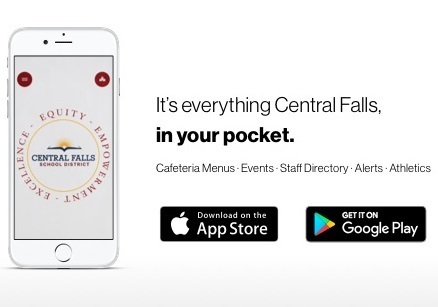 ¿Sabía que su distrito escolar tiene una aplicación móvil? ¡Hay una aplicación para eso! ¡Puedes ver este video (
https://bit.ly/39vG3Ky
) sobre cómo obtener 'TODO el Distrito Escolar Central Falls' en tu bolsillo! Mantente conectado con nosotros!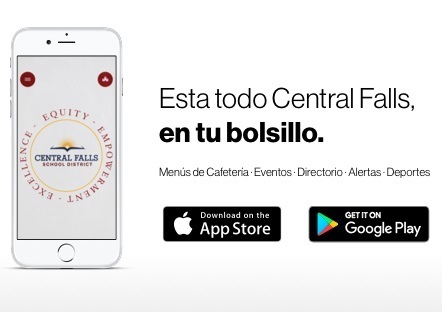 There is a 2 hour delay for Central Falls Schools. There will no Pre-kindergarten AM session. Hay un retraso de 2 horas para las escuelas de Central Falls. No habrá sesión de AM de prejardín de infantes.