BROKEN CHROMEBOOKS: We have learned that some of the Chromebooks that were given to families this week were broken. On Saturday, March 28 at Veterans Elementary school from 10am to 1pm, you can bring a broken device and receive a different one. You must bring the broken device with you. To ensure everyone's health, please only have one person from your family come. We will be following the guidance of social distancing and require everyone to be 6 feet apart and have only 10 people at the location at a time. We ask that if your last name begins with A-M please come between 10am and 11:30am and if your last name begins with N-Z please come between 11:30am and 1pm. Saturday we will also be attempting redeliveries for grades 2nd-8th. Please note there are no additional Chromebooks or hotspots available. If you need wifi, please call COX about their 2 FREE months at 888-234-3993. If you have support questions, including username and password, please email
cf-technology@cfschools.net
.




El distrito de Central Falls les ofrece comida para desayuno y almuerzo entre las horas de 10-12 cinco días a semana afuera del High School o de Segue Academy.

Familias de Raíces, por un orden de la gobernadora, vamos a quedar en casa el 23 de marzo al 3 de abril. La maestra del salón les va a comunicar el lunes, 23 de marzo con más información sobre nuestro plan para aprendizaje de distancia, incluso las expectativas, una presta de un Chromebook, y como recoger materiales de la escuela en una manera segura. Gracias por su ayuda en seguir con el aprendizaje de sus niños en este tiempo.

Familias de Raíces, gracias por su paciencia durante el crisis de Coronavirus. Estamos planeando cómo apoyar a los estudiantes durante este tiempo mientras ellos están en casa. Compartimos más información cuando sabemos detalles.

Familias, recuerden que la escuela comienza de nuevo mañana. ¡Vamos por el 100% de asistencia para todos los 3,000 estudiantes de CFSD! Families, remember school starts again tomorrow. Let's go for 100% attendance for all 3,000 CFSD students!

Did you know your school district has a mobile app? There is an app for that! You can watch this video (
https://bit.ly/2Q6pFs6
) on how to get 'EVERYTHING Central Falls School District' in your pocket! Stay connected with us!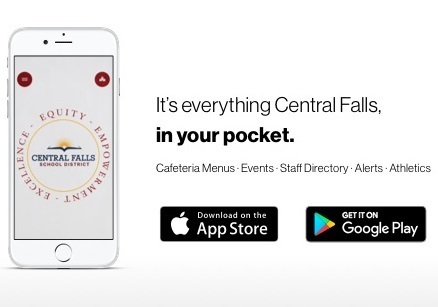 ¿Sabía que su distrito escolar tiene una aplicación móvil? ¡Hay una aplicación para eso! ¡Puedes ver este video (
https://bit.ly/39vG3Ky
) sobre cómo obtener 'TODO el Distrito Escolar Central Falls' en tu bolsillo! Mantente conectado con nosotros!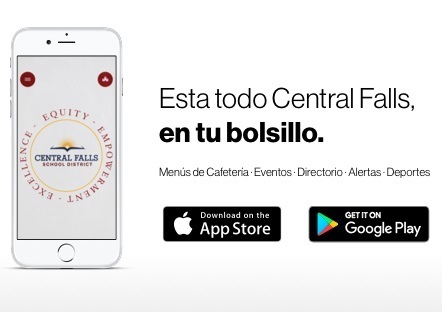 There is a 2 hour delay for Central Falls Schools. There will no Pre-kindergarten AM session. Hay un retraso de 2 horas para las escuelas de Central Falls. No habrá sesión de AM de prejardín de infantes.

A flu clinic will be held at Veterans Memorial on Wednesday, October 9th from 4pm to 6pm and is open to anyone 3 years of age or older. No pre-registration required. There is no out of pocket cost for ANYONE. For more information, call health information line at 401-222-5960.

Monday August 26th from 10:00 a.m. to 3:00 p.m. free haircuts will be available for Central Falls students at Calcutt Middle School. You must register your children by sending a message to 401-617-9128 or 401-617-8645.