What: The 7 Mask Challenge- a challenge for each resident in Central Falls to create seven masks for themselves and their family to help prevent the spread of COVID-19 in Central Falls. Who: All residents of Central Falls are encouraged to participate in The 7 Mask Challenge with their families. When: This Challenge will run from April 1, 2020 until the end of the State of Emergency in Rhode Island.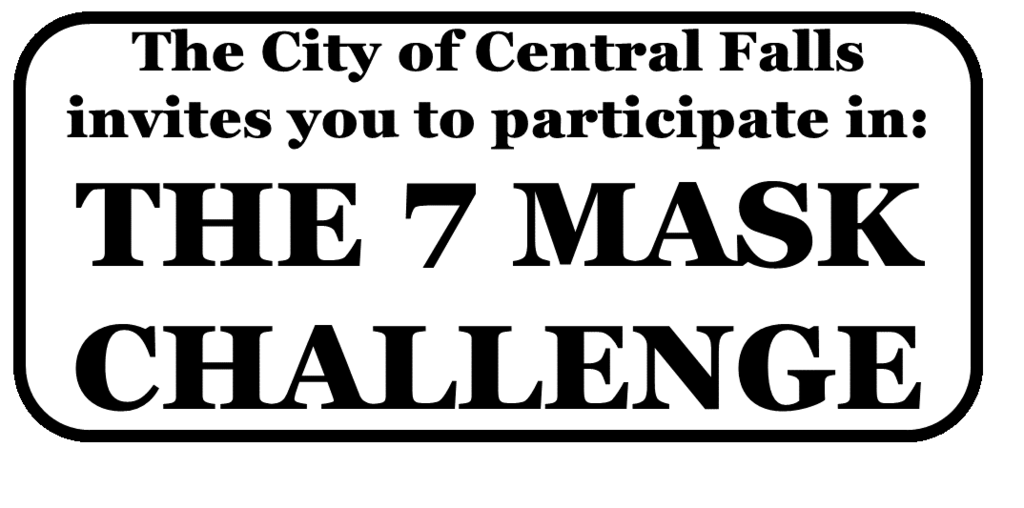 Que: el Reto de la siete máscaras es para que todos los residents de Central Falls diseñen 7 máscaras para miembro de sus familias para ayudar a prevenir la propagación de Covid-19 en Central Falls. Quien: Todo de los residentes de Central Falls están invitados a participar en el Reto de la siete máscaras con sus familias. Cuando: El reto comensaria desde de ahora hasta el final del estado de emergencia en Rhode Island.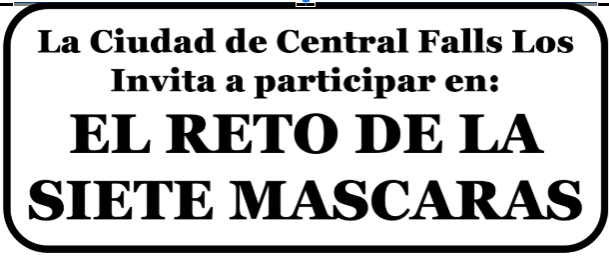 Buenas tardes familias de Ella Risk, La Comisionada de Educación, Angelica Infante Green Anunció que el Viernes, 3 de Abril y el Viernes, 17 de Abril van a ser días de desarrollo profesional para las maestras y el personal. No habrá instrucción directa, ni reuniones cara a cara con los estudiantes esos días. Los estudiantes completarán las tareas asignadas por sus maestras y podrán terminar el trabajo que no han podido terminar durante la semana. La comisionada también declaró el 9 y el 10 de Abril como días de "No Escuela¨. Gracias que tengan feliz noche.
Good afternoon Ella Risk Families, The Commissioner of Education, Angelica Infante Green has announced Friday, April 3 and Friday, April 17 as professional development days for teachers and staff. There will be no direct instruction, nor face-to-face meetings scheduled with students on those days. Students can complete assignments from their teachers or work that they did not finish during the week. The commissioner also set April 9th and April 10th as "No School" days. Thank you and have a good evening.

BROKEN CHROMEBOOKS: We have learned that some of the Chromebooks that were given to families this week were broken. On Saturday, March 28 at Veterans Elementary school from 10am to 1pm, you can bring a broken device and receive a different one. You must bring the broken device with you. To ensure everyone's health, please only have one person from your family come. We will be following the guidance of social distancing and require everyone to be 6 feet apart and have only 10 people at the location at a time. We ask that if your last name begins with A-M please come between 10am and 11:30am and if your last name begins with N-Z please come between 11:30am and 1pm. Saturday we will also be attempting redeliveries for grades 2nd-8th. Please note there are no additional Chromebooks or hotspots available. If you need wifi, please call COX about their 2 FREE months at 888-234-3993. If you have support questions, including username and password, please email
cf-technology@cfschools.net
.



Buenas tardes familias, este mensaje en nombre del Dr. Comet y toda la Familia Ella Risk. Esta es una actualización de nuestra nueva aventura: el aprendizaje a distancia. A partir del lunes 23 de marzo, se espera que los estudiantes participen en la escuela. La forma en que estamos haciendo esto evolucionará con el tiempo, pero tenemos información importante que compartiremos el lunes a las 9:00 de la mañana. El Dr. Comet se dirigirá a los estudiantes, los padres y la comunidad el lunes por la mañana a las 9:00 a través de un discurso pregrabado. Encuentre este discurso en nuestra página de Facebook y en nuestra página web de Ella Risk. Queremos que sepan, estamos aquí para servirles y ayudarles en la educación de sus hijos. Los padres continuarán comunicándose con los maestros a través de Dojo, correo electrónico, teléfono y Google Classroom (nuestro aula virtual). Continúe comunicándose conmigo llamando a la escuela y dejando un mensaje en mi extensión (401-727-7730 ext 6004). Me pondré en contacto con usted tan pronto como pueda. Esto es nuevo para todos, estudiantes, padres y maestros y les pedimos que adopten esta nueva forma de aprender con paciencia. Tenga en cuenta que la educación de su hijo(a) es nuestra prioridad. Quiero pedirle que descargue nuestra aplicación del distrito en su teléfono y que le de Me Gusta a nuestra página de Facebook de Ella Risk School (@EllaRiskSchool) para obtener actualizaciones. Nuevamente, el lunes 23 de marzo a las 9:00, el Dr. Comet compartirá información importante sobre las expectativas, la distribución de las computadoras, etc. Superaremos esto juntos. Gracias y manténgase a salvo.
Good afternoon families, this message in on behalf of Dr. Comet and thee whole Ella Risk Family. This is an update on our new adventure - distance learning. Starting on Monday, March 23rd students will be expected to be participating in school. The way we do this will evolve over time but we have important information we will share on Monday morning at 9:00AM. Dr. Comet will be addressing students, parents, and the community on Monday morning at 9:00 through a pre-recorded address. Please find this address on our Facebook page and our Ella Risk webpage. We want you to know, we are here to serve you and to help you in the education of your children. Parents will continue to communicate with teachers via Dojo, email, phone, and Google Classroom (our virtual classroom). Please continue contacting me by calling school and leaving a message on my extension (401-727-7730 ext 6004). I'll get back to you as soon as I am able. This is new to everyone, students, parents, and teachers and we would ask that you embrace this new way of learning with patience. Please know that your child's education is all of our priority. I want to ask you to please download our district app on your phone and like our Ella Risk School facebook (@EllaRiskSchool) page for updates. Again, on Monday, March 23rd at 9:00, Dr Comet will be sharing important information about expectations, chromebook distribution, etc. We will get through this together. Thank you and stay safe.

Familias, recuerden que la escuela comienza de nuevo mañana. ¡Vamos por el 100% de asistencia para todos los 3,000 estudiantes de CFSD! Families, remember school starts again tomorrow. Let's go for 100% attendance for all 3,000 CFSD students!

¿Sabía que su distrito escolar tiene una aplicación móvil? ¡Hay una aplicación para eso! ¡Puedes ver este video (
https://bit.ly/39vG3Ky
) sobre cómo obtener 'TODO el Distrito Escolar Central Falls' en tu bolsillo! Mantente conectado con nosotros!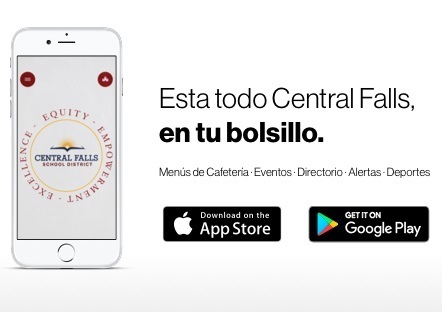 Did you know your school district has a mobile app? There is an app for that! You can watch this video (
https://bit.ly/2Q6pFs6
) on how to get 'EVERYTHING Central Falls School District' in your pocket! Stay connected with us!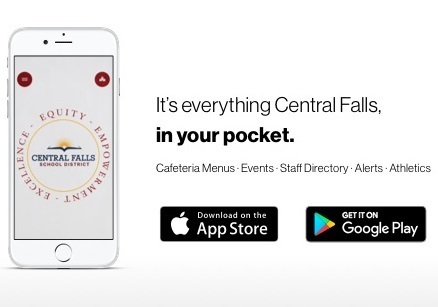 There is a 2 hour delay for Central Falls Schools. There will no Pre-kindergarten AM session. Hay un retraso de 2 horas para las escuelas de Central Falls. No habrá sesión de AM de prejardín de infantes.

NO SCHOOL Monday, November 11th & Remember…Wednesday, November 13th we will have 1/2 day of school. Students will go home at 11:30 am and come back for Parent Teacher Conference at your scheduled time. Y Recuerde...Miércoles, Noviembre 13 tendremos medio dia de escuela. Los estudiantes irán a casa a las 11:30 am y regresarán para las Conferencias de Padres y Maestros a su hora programada.
LA ASISTENCIA A LA ESCUELA ES IMPORTANTE Familias por favor sigan este enlace y vean el video apenas tengan la oportunidad.
Families please follow this link when you get a chance. It is very important information.
Good morning Families. This is a friendly reminder that we do not have school on Monday, November 11th due to the holiday. Enjoy your long weekend! Buenos dias familias. Este es un mensaje amistoso para recordarles que el próximo Lunes, 11 de Noviembre no habrá escuela debido a que es un dia festivo. Que disfruten del fin de semana largo!

There will be no school today at Ella Risk Elementary, Calcutt Middle School, & Central Falls High School due to a power outage.

A flu clinic will be held at Veterans Memorial on Wednesday, October 9th from 4pm to 6pm and is open to anyone 3 years of age or older. No pre-registration required. There is no out of pocket cost for ANYONE. For more information, call health information line at 401-222-5960.

Monday August 26th from 10:00 a.m. to 3:00 p.m. free haircuts will be available for Central Falls students at Calcutt Middle School. You must register your children by sending a message to 401-617-9128 or 401-617-8645.

Early Dismissal for all Central Falls Schools on August 30th due to excessive heat. Early Dismissal starts at 11:30am. Please stay safe!