MULTIPLE PATHWAYS TO GRADUATION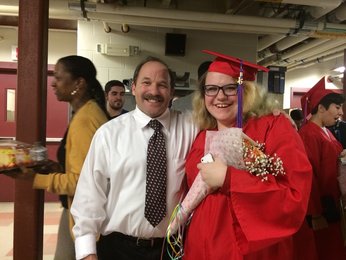 CFHS is determined that all students graduate with the proficiencies that will help them to be successful in whatever career pathway they choose so that they are academically prepared to enter college. To ensure all students' success, CFHS offers a number of pathways to academic credit and work-related experience. These pathways include:
Expanded Learning Opportunities -- these are individual, credit-bearing courses generally student initiated as a result of a particular interest or passion. The learning objectives and work of the course are negotiated between the student, the cooperating teacher, and the outside mentor. The Expanded Learning Opportunities (ELO) Initiative at Central Falls High School provides an opportunity for students to get academic credit for learning that is student-centered, hands-on, and rigorous. Students that participate in ELOs work closely with teachers who are highly-qualified in the subject of the ELO and community members who provide students with the chance to apply their learning in a real-world setting.
Some forms of ELOs already take place during the school day and other ELOs take place after-school or during the summer. When completing an ELO, students make work as individuals or in groups. In order to complete an ELO, students complete ongoing reflections, research, create a final product, and demonstrate their learning at a final presentation.
Guide to Success -- a day and evening program for students who are older than traditional students and who are behind in the number of credits they need for graduation.
School Year Schedule 2016-2017 for G2S
*Mixed Hybrid Schedule 11:43a.m.-5:00p.m.
11:43a.m.-12:08p.m. Lunch
12:12p.m.-1:17p.m. Gym/Art/Elective
1:21p.m.-2:30p.m. Gym/Art/Elective
2:35p.m.-3:25p.m. Period 1
3:25p.m.-4:15p.m. Period 2
4:15p.m-5:00p.m. Period 3
Virtual Learning -- computer-based learning program where students can access courses 24 hours a day. This program helps to accommodate accelerated students as well as those who may not perform as well in the traditional school setting. Virtual Learning is also available for students who would like to take a course in a subject not offered by the high school, such as astrology.
PM School – During the evening hours, content courses are offered by certified teachers to accommodate students that have scheduling conflicts or who may not be performing to their full potential in the traditional school setting. PM School may include a combination of ELO, traditional classroom courses, and virtual opportunities. All students in PM school are encouraged to participate in a hands-on internship in the larger community.
School Year Schedule 2016-2017 for PM School
2:35p.m.-5:00p.m.
Elective/ELO Independent Study Internship,
CTE Plan and Community Service-Student Specific
12:00p.m.-2:00p.m. Ind. Assigned
2:35p.m.-3:25p.m. Period 1
3:25p.m.-4:15p.m. Period 2
4:15p.m-5:00p.m. Period 3
Dinner
Credit Recovery– the wide variety of educational strategies and programs that give CF High School students who have failed a class the opportunity to redo coursework or retake a course through alternate means—and thereby avoid failure and earn academic credit at an accelerated pace with a focus on demonstration of skill and content mastery.
Multiple Pathways Staff:
FOR MORE INFORMATION OR TO GET INVOLVED, CONTACT THE DIRECTOR OF MULTIPLE PATHWAYS, HEATHER DOS SANTOS, AT DOSSANTOSH@CFSCHOOLS.NET OR 401-727-7710 X3242.