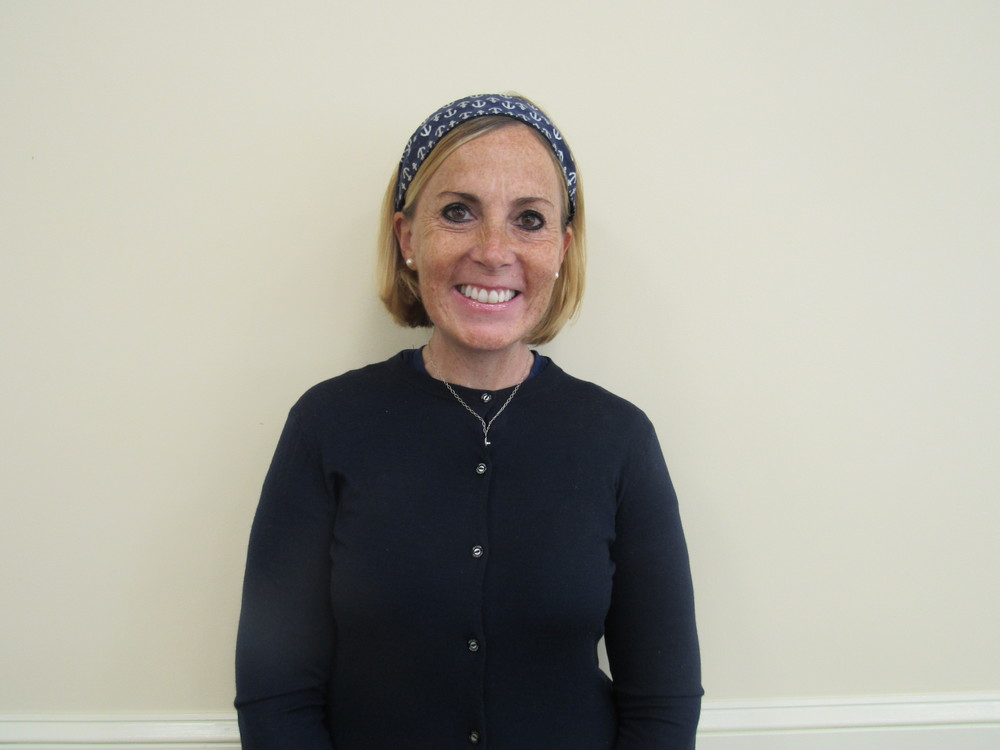 Principal's Message
Beth Tanner
Wednesday, July 25, 2018
July 25, 2018
Dear Robertson and Captain Hunt Families,
My in-laws have a deck on the back of their home north of Boston. Well, it used to be a deck. Weather, family and dogs have loved it into pieces and most recently, it is more of an elaborate obstacle course. It is always exciting to make it to the car in the driveway without falling off the deck or into one of the cavernous sinkholes created by wood softened by years, rain and our northeast winters. Last week, my husband took vacation. He dismantled the old deck in order to begin construction on a new one. The 'deck construction project' J made me think of our school year. Each June, we take apart our classrooms, clean them and then, in September, the teachers, staff and I work to re-create our classroom design & programming in order to support our new students; your children! Please know that we are incredibly excited for your partnership, as we begin that our journey to build this year together with you.
Thank you in advance for considering the possibility of volunteering in our school community to help us as we work to create the best possible early learning center for the youngest learners in Central Falls. Research shows that our school will be more effective if you are involved. With that on our hearts, we invite you to participate in our early learning community in numerous different ways. Please call Miss Lucellis, our Home School Liaison at 721-6857 or nievesl@cfschools.net to receive information about our different opportunities for volunteering during this year. We are excited to work with you! Volunteers or parents who would like to help in our school and/or on field trips need a current Background Check. They used to be completed at the office of the Rhode Island Attorney General but as of July 23, 2018, all in-person state and national background checks will only be available at the new Rhode Island Customer Service Center located at 4 Howard Avenue, Cranston and open from Monday to Friday from 8:30am to 4:30pm.
In both Preschool and Kindergarten, we hope to help your child to feel safe in our classroom communities with established routines and rituals to guide your child's day. In order to create and nurture a safe learning environment, we utilize the SECOND STEP SOCIAL SKILLS CURRICULUM. The children are taught school rules: Eyes Watching, Ears Listening, Voices Quiet, Body Calm as well as intentionally taught social skills. These rituals, routines and intentionally-taught skills are the foundation of our early learning program.
Our Kindergarten teachers will quickly work to help the Kindergartners to learn all of their letters and sounds and then, by the end of the year, with your help, be reading fluently and able to identify 60 plus sight words. Our Preschool teachers will work to help the students identify their names as a symbol and then, by the end of the year, work to learn as many letters and sounds as possible. In Math, the students at both schools will be Sorting, Classifying, Patterning, Adding, Subtracting and learning Numeracy skills ~ even using '10 frames' in Kindergarten. The teachers and I know that we will work as hard as we can to help your child; ultimately, your child's success depends on our partnership with you. Thank you for your help on this 'beginning of your child's schooling' journey. Preschool and Kindergarten today; tomorrow, Brown University, Providence College, URI, Johnson and Wales, Roger Williams or Rhode Island College!
Most especially though, we will work together with your family to help your child to love learning, love school and especially love reading. In order to accomplish this, we hope to have as much bi-lateral communication as possible. Some classes will CLASS DOJO in order to facilitate that process. Please note that all of the teachers, staff and I have emails and can be reached at our cfschools.net email addresses, as well as through the school office at Captain Hunt & M.I. Robertson Elementary. Miss Maria is our School Secretary at MI Robertson. Her direct phone number is 721-6857. Her email is pedrazam@cfschools.net. Miss Michele is our School Secretary at Captain Hunt School. Her direct number is 721-6890. Her email is gosselinm@cfschools.net. Both secretaries can absolutely give messages to your child's teacher.
The first day of school is almost upon us. Family Meetings in the classrooms with teachers will be by appointment only on August 30th and August 31st at MI Robertson School Kindergarten and Pre-K and by appointment only on August 30th, August 31st and September 4th at Captain Hunt School. Please call or email Miss Maria at the Robertson School office at 721-6857 pedrazam@cfschools.net to set up an appointment for your preschooler or Kindergartner if your child will be attending MI Robertson School. Please call or email Miss Michele at 721-6890 or gosselinm@cfschools.net if your child will be attending Captain Hunt School. We are so excited to meet your child and family, or welcome you back, and hope that you will be able to come to our SCHOOL FAMILY BBQ's as well. The Captain Hunt School Family BBQ Dinner will be on the school playground on Thursday, August 30th from 4-5pm. The MI Robertson School BBQ Lunch will be at 11:30am on the first day of school for Robertson, Tuesday, September 4th in order to celebrate the first day of school.
As I write, the new deck is almost complete. Railings will be added today. Then, it will be painted at some point in the future. It is such a happy metaphor for me as the teachers, staff and I look forward to creating this year with you. How can we build the most perfect school possible for your young learner? We look forward to hearing about your child and your hopes & dreams for your child's 2018-19 school year at our FAMILY MEETINGS and then, in September at our Curriculum Night on 9/27 at 4pm at MI Robertson School and at our Parent Coffee/Bagels at 8:45am on 9/28 at Captain Hunt. We are so eager to get to know your child and help he/she to celebrate the 2018-19 school year by falling in love with learning. We are especially excited to celebrate each & every joyful moment with your little one. #BUILDAYEARofJOY
With Much Anticipation,
Beth Tanner, MS Ed,
Principal
Estimadas Familias de Captain Hunt y Robertson,
Mis suegros tienen una terraza en la parte de a tras de su casa al norte de Boston. Bueno, solía ser una terraza. El clima, la familia y los perros la amaron a pedazos y recientemente se ha convertido en una elaborada pista de obstáculos. Es excitante poder llegar al carro estacionado sin caerse de la terraza o en uno de los hoyos creados por la madera ablandada por los años, la lluvia y nuestros inviernos del noreste. La semana pasada mi esposo tomo tiempo por vacaciones. Él desmantelo la terraza para poder comenzar a construir una nueva. El 'proyecto de construcción de la terraza' J me hizo pensar en nuestro año escolar. Cada mes de junio, desmantelamos nuestros salones de clase, lo limpiamos y luego, en septiembre, los maestros, el personal y yo trabajamos para re-crear el diseño y programación a fin de apoyar a nuestros estudiantes; ¡sus niños! Por favor sepa que nos sentimos increíblemente emocionados con su colaboración mientras comenzamos este viaje para construir este año junto a usted.
Le agradecemos de antemano que considere la oportunidad de ser voluntario en nuestra comunidad escolar y así ayudarnos mientras trabajamos para crear el mejor posible centro de educación temprana para los estudiantes más jóvenes de Central Falls. Estudios han demostrado que nuestra escuela sería más efectiva si usted estuviese envuelto. Con ese propósito en nuestros corazones, le invitamos a participar de nuestra comunidad de aprendizaje en diferentes maneras. Por favor llame a la Srta. Lucellis, nuestra Intermediaria Escolar, al 721-6857 o envíele un correo electrónico a nievesl@cfschools.net para recibir información sobre las diferentes oportunidades de trabajo voluntario a lo largo de este año escolar. ¡Nos emociona poder trabajar con usted! Voluntarios o padres que gusten de ayudar en nuestra escuela y/o paseos necesitan una verificación de antecedentes penales actualizada. Anteriormente usted podía obtenerla en la oficina del Fiscal General de Rhode Island (Attorney General) pero a partir del 23 de julio del 2018, toda transacción en persona para obtener una verificación de antecedentes estatal y nacional debe ser llevada a cabo en el Centro de Servicio al Cliente de Rhode Island, localizado en 4 Howard Avenue, Cranston y su horario de operación es lunes a Viernes de 8:30am a 4:30pm.
Tanto en Prescolar como en Kínder, deseamos ayudar a que su niño se sienta seguro en nuestra comunidad de salones de clase con rutinas y rituales para guiar el día de su niño. Para poder crear y nutrir un ambiente educativo seguro, utilizamos el CURRICULO PARA DESTREZAS SOCIALES DE SECOND STEP. Se le enseña a los niños las reglas de la escuela: Ojos Observando, Oídos Escuchando, Voces en Silencio, Cuerpo Calmado, así como las destrezas sociales enseñadas intencionalmente.
Nuestros maestros de Kínder trabajaran rápidamente para ayudar a nuestros estudiantes a aprenderse todas sus letras y sonidos y luego, hacia el fin del año, con la ayuda de usted, a leer con fluidez y poder identificar más de 60 palabras de vista (palabras monosilábicas). Nuestros maestros de Prescolar trabajaran en ayudar a los estudiantes a identificar sus nombres como un símbolo y luego, hacia el fin del año, trabajar en aprender tantas letras y sonidos como les sea posible. En matemáticas, los estudiantes en ambas escuelas, sortearan, clasificaran, harán patrones, harán suma, harán resta y aprenderán destrezas numéricas ~ incluso, en Kínder utilizaran 'marcos de 10'. Los maestro y yo sabemos que trabajaremos tan fuerte como podamos para ayudar a su niño; al final de cuentas, el éxito de su niño depende de nuestro trabajo en equipo con usted. Muchas gracias por su ayuda durante este viaje de 'comienzo de la preparación académica de su niño'. ¡Prescolar y Kínder hoy; mañana, Brown University, Providence College, URI, Johnson and Wales, Roger Williams o Rhode Island College!
Especialmente, trabajaremos en conjunto a su familia para ayudarle a su niño a amar el aprendizaje, amar la escuela y amar más todavía la lectura. Para poder lograr esto, esperamos poder tanta comunicación bilateral como sea posible. Algunas clases utilizan "CLASS DOJO" (aplicación telefónica y sitio web) para facilitar el proceso. Por favor tenga en cuenta que todos los maestros, el personal y yo tenemos cuentas de correo electrónico y usted se puede comunicar con nosotros a través de nuestras direcciones cfschools.net, así como a través de la oficina escolar en Captain Hunt y en M.I. Robertson. La Sra. Maria es nuestra Secretaria Escolar en MI Robertson. Su número de teléfono directo es el 721-6857. Su correo electrónico es pedrazam@cfschools.net. La Sra. Michele es nuestra Secretaria Escolar en Captain Hunt. Su número de teléfono directo es el 721-6890. Su correo electrónico es gosselinm@cfschools.net. Ambas secretarias, con toda seguridad, pueden darle mensajes a la maestra de su niño.
El primer día de clases ya se acerca. Las Reuniones Familiares de Orientación en los salones de clase junto a los maestros, serán llevadas a cabo solo por cita, el 30 y 31 de agosto para Pre K y Kínder de la Escuela MI Robertson y el 30-31 de agosto y el 4 de septiembre para la Escuela Captain Hunt. Por favor llame o envíe un correo electrónico a la Sra. Maria al 721-6857 o pedrazam@cfschools.net para pautar la reunión si su niño asistirá en Pre K y Kínder en la Escuela MI Robertson. Por favor llame o envíe un correo electrónico a la Sra. Michele al 721-6890 o gosselinm@cfschools.net para pautar la reunión si su niño asistirá a la Escuela Captain Hunt. Nos emociona el poder conocer a su niño y familia, o darles nuevamente la bienvenida, y esperamos que también nos pueda acompañar en nuestro BBQ Familiar. La cena BBQ Familiar de la Escuela Captain Hunt se llevara a cabo en el patio escolar el día jueves, 30 de agosto de 4-5pm. El almuerzo BBQ Familiar de la Escuela MI Robertson se llevara a cabo el primer día de clases para Robertson, el día martes, 4 de septiembre a las 11:30am para celebrar su primer día de clases.
Al momento de escribir esta carta, la terraza se encuentra casi completada. Las barandas se agregaran hoy. Luego será pintada. Es una metáfora tan feliz tanto como para mí como para los maestros y el personal y esperamos crear este año con usted. ¿Cómo podemos construir la escuela lo más perfecta posible para su pequeño aprendiz? Esperamos poder escuchar acerca de su niño y sus sueños y esperanzas para el año escolar 2018-19 durante las Reuniones Familiares de Orientación y luego en septiembre durante nuestra Noche de Currículo el 9/27 a las 4pm en la Escuela MI Robertson y durante nuestra Hora del Café a las 8:45am el 9/28 en Captain Hunt. Estamos ansiosos por conocer a su niño y ayudarlo a celebrar el año escolar 2018-19 enamorándose del aprendizaje. Estamos especialmente emocionados de celebrar cada momento alegre con su pequeño. #CONSTRUYEUNAÑOdeALEGRIA
Con Mucha Anticipación,
Beth Tanner, MS Ed,
Principal