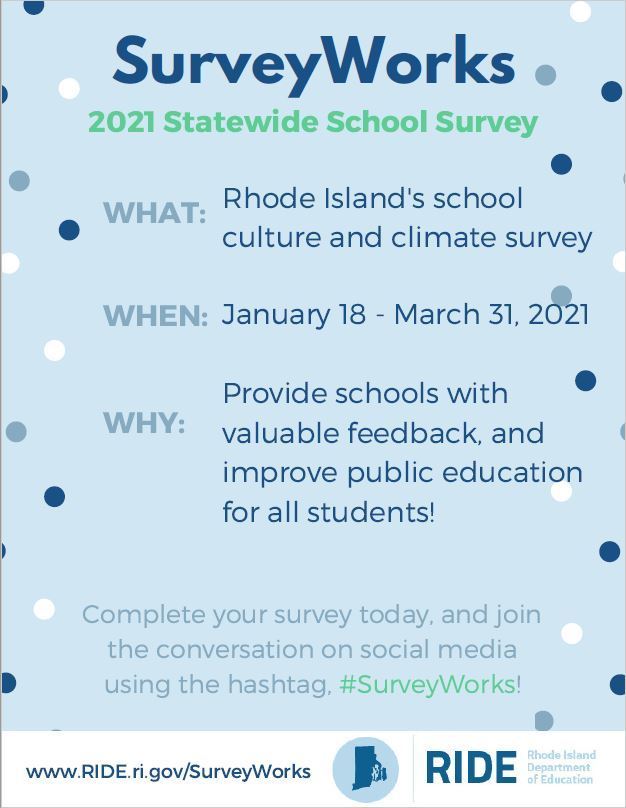 SurveyWorks is here!
Jamie Hill
Monday, January 25, 2021
Families,
Each year RIDE puts out the statewide SurveyWorks for each school to collect your feedback. Please complete this survey before March 31, 2021. Go to bit.ly/ridefamily to do the survey, then pick Central Falls High School from the drop down and click the green "Take this survey" button. Thank you in advance for your feedback and support.
---
Estimados padres y tutores:
El Departamento de Educación de Rhode Island está ejecutando sus Trabajos de encuesta anuales, que es una oportunidad para que los miembros de la familia brinden comentarios sobre nuestra comunidad escolar y las oportunidades de aprendizaje de sus hijos.
Los resultados de la encuesta son más útiles cuando todas las familias participan, por lo que les escribo para pedirles que participen en esta encuesta.
Sus puntos de vista sobre temas como la seguridad de su hijo en la escuela, la forma en que se les enseña a los estudiantes, la condición de la escuela y cuánto se siente conectado con ella son importantes.
Al realizar esta breve encuesta, puede ayudar a nuestro liderazgo escolar y a la comunidad escolar a realizar mejoras. Las respuestas son anónimas y no se pueden vincular a ninguna persona; nadie puede vincular tus respuestas contigo.
Puede realizar la breve encuesta en línea entre el 19 de enero y el 31 de marzo. Para responder la encuesta, visite bit.ly/ridefamily . Elija su escuela de la lista desplegable.
Gracias.
---
Caros Pais e Encarregado de educação:
O Departamento de Educação de Rhode Island está administrando sua Pesquisa Familiar (Survey Works) anual, que é uma oportunidade para os membros da família fornecerem comentários sobre nossa comunidade escolar e as oportunidades de aprendizado de seus filhos.
Os resultados da pesquisa são mais úteis quando todas as famílias participam, portanto, estou escrevendo para pedir a você que participe desta pesquisa.
Suas opiniões sobre questões como a segurança de seu filho na escola, a maneira como os alunos são ensinados, a condição da escola e o quanto você se sente conectado a ela são importantes.
Ao responder a esta pequena pesquisa, você pode ajudar nossa liderança escolar e comunidade escolar a fazer melhorias. As respostas são anônimas e não podem ser vinculadas a nenhum indivíduo; ninguém pode vincular suas respostas a você.
Você pode responder à breve pesquisa online entre 19 de janeiro e 31 de março. Para responder à pesquisa, visite bit.ly/ridefamily . Escolha sua escola na lista suspensa.
Obrigado.