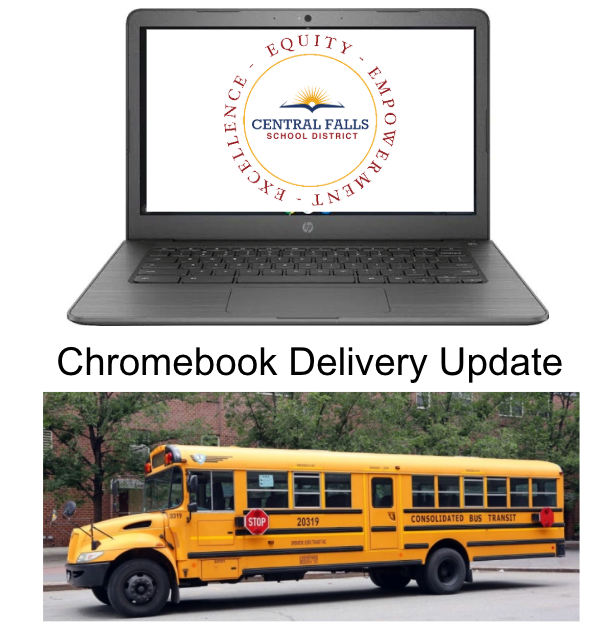 Chromebook Distribution Update/Actualización sobre la Distribución de las computadoras
Tatiana Batista
Friday, March 27, 2020
Today, Friday, March 27, we will be delivering Chromebooks to students in 2nd, 3rd and 4th grade that do not yet have a device in their household. Deliveries will take place between the approximate hours of 9AM and 3PM. We will also reattempt deliveries for students in older grades.
We will continue deliveries through the weekend as our goal is for all devices to be with families before school on Monday, March 30.
Thank you for your patience as we shifted to delivery for the health and safety of everyone!
****
ACTUALIZACIÓN DE ENTREGA DE CHROMEBOOK: Hoy viernes 27 de marzo, entregamos Chromebooks a los estudiantes de 2º, 3º y 4º grado que aún no tienen un Chromebook en su hogar. Las entregas se realizarán entre las horas aproximadas de 9 a.m. y 3 p.m. También volveremos a intentar las entregas para estudiantes de grados más altos.
Continuaremos las entregas durante el fin de semana, ya que nuestro objetivo es que todos los Chromebooks estén con las familias antes de la escuela el lunes 30 de marzo.
¡Gracias por su paciencia mientras pasamos a la entrega para la salud y la seguridad de todos!
****
ATUALIZAÇÃO DE ENTREGA DO CHROMEBOOK: Hoje, sexta-feira, 27 de março, entregaremos os Chromebooks para os alunos das 2ª, 3ª e 4ª séries que ainda não possuem um dispositivo em casa. As entregas ocorrerão entre o horário aproximado das 9:00 às 15:00. Também tentaremos novamente as entregas para alunos de séries mais antigas.
Continuaremos as entregas até o final de semana, pois nosso objetivo é que todos os dispositivos estejam com as famílias antes da escola na segunda-feira, 30 de março.
Agradecemos sua paciência enquanto mudamos para a entrega para a saúde e segurança de todos!